Everything We Know About 'Life Size 2'
Published on July 10th, 2018 | Updated on July 10th, 2018 | By FanFest
It's crazy to think that it's been 18 years since Disney gifted us with the iconic film that was Life-Size.
Starring a young Lindsay Lohan and Tyra Banks, Life-Size found Casey Stuart (Lohan) attempting to bring her mom back to life, but accidentally brings her doll Eve (Banks) to life instead. For us '90s kids, the movie was an instant classic and that's not just because it featured a timeliess musical number that I'm not ashamed to admit I still jam to from time to time.
The movie was full of great life lessons for youngsters such as the importance of recycling.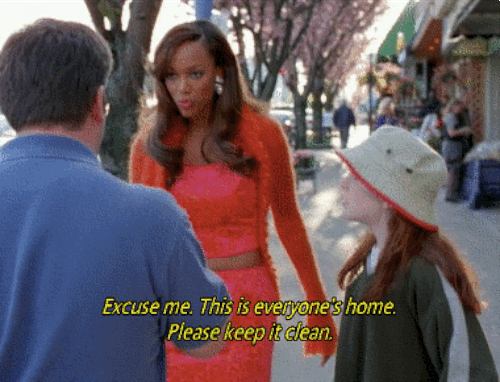 And how it's okay to not be perfect at everything.
And to never stop learning.
So, you can imagine the excitement when Tyra Banks confirmed to Variety back in 2015 that she would be reprising her role as Eve for a sequel.
[row]"There is no one else that can play Eve but me, thank you very much! I'm just joking with you, but yes, I am going to be Eve…We're looking at it as a holiday movie so hopefully holiday 2016. One thing is it's a very precious project to the Disney Channel so they've been doing a lot of re-writes and making sure that this script is really right. "[/row]
Unfortunately, we didn't really hear anything about it until 2017 when Disney's sister network Freeform announced that they had officially greenlit the movie set to premiere during their 25 Days of Christmas special in 2018.
[row]"Tyra Banks will reprise her iconic role as a doll that comes to life in the sequel to the beloved Disney movie, Life-Size…this original movie will premiere in December 2018."[/row]
So, what will the movie be about? Here's what the Freeform official logline says!
[row]In the sequel, everyone's favorite doll, Eve, has grown up. This time, she's magically awoken to help a young woman learn to live and love again and along the way, Eve herself will experience the ups and downs of real life in a fun, edgy, modern Christmas movie.[/row]
Will Lindsay Lohan be back?
Unfortunately, no. Banks announced on Twitter that Grown-ish star and Secret Life of the American Teenager alum Francia Raisa would be teaming up with Eve for Life-Size 2!
Now filming: LIFE SIZE 2.

It's time y'all! You've waited long enough.

Could not find one single woman more perfect to co-star with Eve than the magnificently fierce @franciaraisa.

See you on @FreeformTV this holiday season! #LifeSize2 #ShineBrightShineFar pic.twitter.com/p3XKU0oN25

— Tyra Banks (@tyrabanks) July 9, 2018
But that's not to say that Lohan won't be returning at all. Banks spoke with Buzzfeed in April saying that she had been fighting to make sure that Lohan's character Casey would appear in the film as more than a cameo. So, that's good news!
[row]"We're working on the script now and I'm telling the writer I don't want her to just have a cameo. I feel like [Lohan] was just as important to Life-Size 1 as I was, so I want her to have a role, at least three or four scenes. I think she would play herself grown up — like, Casey in Life-Size grown up. So, we'll see!"[/row]
While it would be great to have Casey and Eve back together, we have a feeling that Raisa and Banks are going to be a great duo. We are looking forward to a more adult take on the story of Eve and can't wait to watch the two of them navigating a lot of the more modern issues that women are facing today! Plus, it's a Christmas movie! Doesn't get much better than that.
Life-Size 2 premieres this December on Freeform!
Having studied Media & Writing at James Madison University, I always knew that I wanted to do some type of creative writing, but being able to write about zombies, Starks, and superheroes on a daily basis for Fan Fest is my actual dream. While I probably shouldn't be as proud as I am to be so similar to Nick Miller, I do hope to one day write my own "Pepperwood Chronicles'.