Everything We Know About 'Brooklyn Nine-Nine' Season 6 So Far
Published on August 9th, 2018 | Updated on August 9th, 2018 | By FanFest
When real-life guardian angel NBC stepped in amongst the outrage of fans everywhere to save Brooklyn Nine-Nine from cancellation, a collective cool, cool, cool, cool, cool was heard around the world and everything was right in the television world again. Thankfully, some of the cast and creators of Nine-Nine made their way to the 2018 Television Critic Association summer press tour to talk all about what fans can expect from season 6 on its brand new network!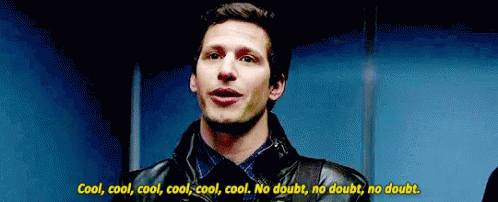 It may be on a different network but Brooklyn Nine-Nine is staying the same!
During the panel creator Dan Goor eased any worries fans might have about NBC wanting to change the sitcom up for their network, saying they don't want them to make any "substantial changes" to the show. He also said that he and Andy Samberg go way back with the network and "they have our back." Even better news?
Confirmed: This includes the theme song. #Brooklyn99

— Brooklyn Nine-Nine (@nbcbrooklyn99) August 8, 2018
The Halloween Heist lives one!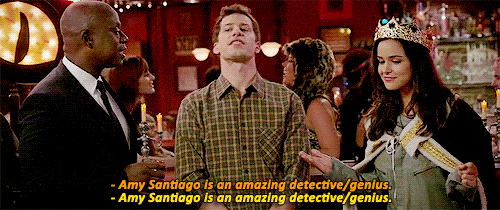 By far one of the best episodes of every season is the Halloween Heist! While it may be tough to top season 5's engagement between Jake and Amy, the writing staff is sure going to try! "We have a very good idea for how to do the Halloween Heist," Goor said.
Rosa will have her time to shine <3
Fans fell in love with Rosa's bisexual storyline over Nine-Nine's recent seasons and Goor said they're ready to dive even deeper into all of it, including "Rosa's interactions with her parents and her journey in coming out,"
Including Gina Rodriguez!!
During San Diego Comic-Con, the cast revealed that they would love more than anything for Gina Rodriguez to come back to the show as a potential love interest for Rosa, seeing that the two totally hit it off in the finale. "We are in conversations with her…She is the star of a television show and super-successful in Hollywood."
Sterling K. Brown's "The Box" has inspired a new episode.
Season 5's interrogation episode focusing solely on Jake and Holt's relationship and featuring Sterling K. Brown (for which he received a guest-star Emmy nomination) was so beloved by the cast and writers that they are hoping to do something similar in season 6. During the panel Andrew Braugher (Captain Holt) reflected on just how much fun the episode was to film and he loved how the writers were able to tap into Jake and Holt's father/son dynamic. "These guys just have a gift for translating a serious subject in a comedic way."
Those two gentlemen are absolutely extraordinary! It was a joy to play with them, and I'd be delighted to do it again! "99!" #Brooklyn99 https://t.co/O5ECkoNyVZ

— Sterling K Brown (@SterlingKBrown) August 8, 2018
They want to tackle a Me Too episode.
Last season's racial profiling episode "Moo Moo" was heavy, but it was handled in the gentle and heartfelt nature fans would expect Nine-Nine to. "Our challenge is to make them feel true to the show and funny, but at the same time give weight to the issue and really explore it in a fair way," Goor said before saying they hoped to tackle the #metoo movement, but want to make sure they do it well.
What's next for Jake and Amy?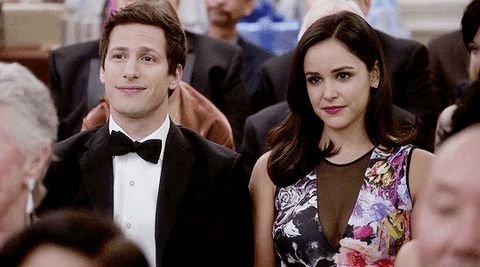 The pair got married in the season 5 finale, so fans are left wondering what's next? "Mostly just, I think, really small, detail-oriented stories about their finances," Samberg joked.
Since Brooklyn Nine-Nine will be a midseason series for NBC, season 6 doesn't have a premiere date yet, but the cast just got together today for their first table read!
CASE FILE: #Brooklyn99 Season 6
STATUS: Open pic.twitter.com/Xuij85YOUO

— Brooklyn Nine-Nine (@nbcbrooklyn99) August 8, 2018
Having studied Media & Writing at James Madison University, I always knew that I wanted to do some type of creative writing, but being able to write about zombies, Starks, and superheroes on a daily basis for Fan Fest is my actual dream. While I probably shouldn't be as proud as I am to be so similar to Nick Miller, I do hope to one day write my own "Pepperwood Chronicles'.