Evangeline Lilly Talks Co-Headlining 'Ant-Man and the Wasp'
Published on July 5th, 2018 | Updated on July 5th, 2018 | By FanFest
Evangeline Lilly's role in the upcoming Ant-Man and the Wasp is a huge stepping stone for the Marvel Cinematic Universe. Lilly's character of Hope Van Dyne/The Wasp marks the first time that a female will be receiving equal billing in a Marvel film. So, just how did Lilly find out that she would have such a vital role in the sequel?
[row]"When they cast me in the first Ant-Man, I knew that if the first film was a box-office success, then that would mean I would get to put on a suit. So there was probably no one more invested in the box office numbers of Ant-Man than me. Once the film was successful enough to warrant a second, and I knew that that was going, I still didn't know that Wasp would be getting equal billing with Ant-Man. So that came as a surprise later: I got a surprise email with nothing but a JPEG of the title card. And that was how they told me. Pretty cool," Lilly told The Hollywood Reporter.[/row]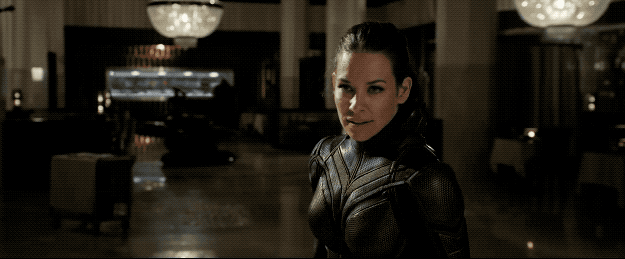 Lilly has certainly taken her trailblazing role to heart, saying that she wanted to make sure that The Wasp's fighting style would be something that young girls could look up to and imitate on their own.
[row]"In her fight scenes, as trivial as it might seem, I really pushed and fought for her to fight with elegance, grace and femininity," Lilly said. "She moves differently than a man. I wanted her to have a signature style that little girls like I was when I was a feminine, girly little girl, would be able to fall in love with, emulate and relate to in their own movements."[/row]
[row]"When we did Ant-Man I had to study a little bit of Muay Thai and MMA style fighting, and MMA style fighting is distinctly masculine, it's got a very masculine posture and a very masculine attack, and that was so difficult for me because I don't move that way naturally. I really wanted to change that in this film. I wanted to move the way my body wants to move, as a more graceful, feminine woman."[/row]
Marvel Studios President Kevin Feige has promised to introduce more heroes like The Wasp, staring with Brie Larson's Captain Marvel, which marks the first female solo film for the MCU. While there's no word as to whether or not there will be a third film in the Ant-Man franchise, Lilly's performance as The Wasp has been receiving great reviews and we hope that she will have the opportunity to suit up once again!
Starring Paul Rudd, Evangeline Lilly, Michael Pena, Michael Douglas, Michelle Pfieffer, Walton Goggins and Hannah John Kamen, Ant-Man and the Wasp follows Scott Lang as he struggles to balance being both a superhero and a father. Meanwhile, Hope van Dyne and Dr. Hank Pym present an urgent new mission that finds the Ant-Man and The Wasp fighting to uncover secrets from their past.
The movie hits theaters July 6, 2018!
Having studied Media & Writing at James Madison University, I always knew that I wanted to do some type of creative writing, but being able to write about zombies, Starks, and superheroes on a daily basis for Fan Fest is my actual dream. While I probably shouldn't be as proud as I am to be so similar to Nick Miller, I do hope to one day write my own "Pepperwood Chronicles'.