Evangeline Lilly Talks 'LOST' and 'Infinity War' Endings
Published on June 26th, 2018 | Updated on November 18th, 2019 | By FanFest
*This post contains spoilers for Infinity War and minor spoilers for LOST*
There are plenty of series finales that still have people talking today, but ABC's Lost certainly finds itself at the top of a lot of people's lists for discussion. Some loved it, a lot completely hated it, but either way, it certainly shocked fans and caused an uproar when it premiered back in 2010. Something similar happened when Avengers: Infinity War hit theaters this past May. Fans were horrified to see Thanos snap his fingers, which resulted in half of the world, including half of our favorite Marvel characters, disappear.
Marvel
Evangeline Lily, who plays Hope Van Dyne/The Wasp in the upcoming Ant-Man and The Wasp, also played Kate Austen on the ABC hit back in the day and was recently asked to discuss the two endings, which she agrees may have had similar reactions from the audience, but for different reasons.
"LOST was more controversial. I think the end of Infinity War devastated people, but I think the end of LOST was controversial. Like people either loved it or they hated it, and they were confused about it. They didn't really understand what happened. I think it's pretty clear what happened at the end of Infinity War."
The LOST series finale certainly raised a lot of questions about whether the characters were actually dead, a sentiment that Marvel fans are currently echoing with Guardians of the Galaxy, Spider-Man, and Black Panther sequels still in the pipeline despite their lead characters all having "died". Although, unlike LOST fans, we will thankfully get some answers about the actual fate of our favorite characters when Avengers 4 hits theaters next May!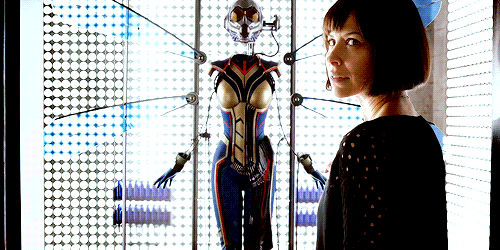 For now though, Lily is focusing straight ahead on Ant-Man and The Wasp where she steps into the badass role as Scott Lang/Ant-Man's partner Hope Van Dyne.
"It was just fun to finally get to see her wearing that suit. This is something she's been ready and willing to do basically her whole life. Her parents were both superheroes, and she was rearing to get that suit for an entire film and we never get there. So to actually see her fighting was wonderful," Lilly said earlier this year at a press conference.
Ant-Man and The Wasp hits theaters July 6 and is already receiving some great reviews so be sure to check Lilly at a theater near you next weekend!
Having studied Media & Writing at James Madison University, I always knew that I wanted to do some type of creative writing, but being able to write about zombies, Starks, and superheroes on a daily basis for Fan Fest is my actual dream. While I probably shouldn't be as proud as I am to be so similar to Nick Miller, I do hope to one day write my own "Pepperwood Chronicles'.