Disney Channel Explores New 'Descendants 3' Sets
Published on July 9th, 2018 | Updated on July 9th, 2018 | By FanFest
Disney Channel recently released another D3-Deets video on their social media pages, which have been providing fans the past few months with exclusive announcements and behind the scenes looks at the upcoming movie musical, Descendants 3. So far the D3-Deets have given us a first look at the Mal and the Gang, Uma and Harry Hook, as well as the news that Cheyenne Jackson had joined the cast as Hades. Now, they're taking us behind the scenes to explore Descendants 3 sets old and new, or what I like to call the De-set-dants (sorry, had to). Let's take a look!
The Water
If you follow any of the Descendants cast on social media, chances are you've seen some glimpses of this gorgeous set piece. We're hoping for some sweeping ballad or group number will take place here!
The Mine
Of course, this new set piece depicting a mine is giving us some serious Snow White and the Seven Dwarves vibes, who are directly related to Evie's Disney counterpart story as the Evil Queen's daughter and don't forget that her boyfriend Doug is the son of Dopey!
Auradon
Is this view of the Auradon castle reminding anyone else of "Set It Off"? We've come a long way since the first movie and can't wait to see what callbacks the third and final chapter holds.
Here's another look at Auradon looking majestic AF!
The Isle of the Lost
We've seen that Uma and the other villains are officially back so of course, we're going to be heading back to the Isle of the Lost! There seem to be pictures of the Mal and the crew hanging up around, although we can't make out what Mal's says.
The Cottage
This cottage definitely is a new set piece and we are loving the woodland feel it's giving off! It looks to be a Sleeping Beauty shout-out and we definitely see a good jam taking place here.
The Three-Headed Dog
The "Beware of Dog" could very well be of Cerberus, Hades' three-headed dog from Hercules. We know that Cheyenne Jackson has officially joined the cast as Hades so we think that this is a pretty obvious call-out.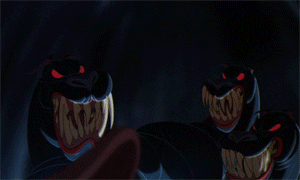 The Staircase
We're thinking that this is probably inside the Sleeping Beauty cottage! Maybe the Descendants take up residence here for a little bit? We did see Mal going through some enchanted woods in the movie's first promo so we will definitely be spending some time there.
The Bridge
This isn't the bridge that Ben and Mal went to on their date in the first Descendants, but it looks very similar to the bridge that Mulan sings on in the animated film. Lani, daughter of Mulan, got a much bigger role in Descendants 3 and we'd love to see her shine more in the third!
Check out the whole Instagram video below!
Descendants 3 is expected to premiere on the Disney Channel sometime in 2019!
Having studied Media & Writing at James Madison University, I always knew that I wanted to do some type of creative writing, but being able to write about zombies, Starks, and superheroes on a daily basis for Fan Fest is my actual dream. While I probably shouldn't be as proud as I am to be so similar to Nick Miller, I do hope to one day write my own "Pepperwood Chronicles'.