Did You Catch the 'This Is Us' Cameo in 'Stranger Things'?
Published on October 9th, 2017 | Updated on October 9th, 2017 | By FanFest
This here is Chris Sullivan.
Many of you probably know him as Toby from NBC's breakout hit This Is Us.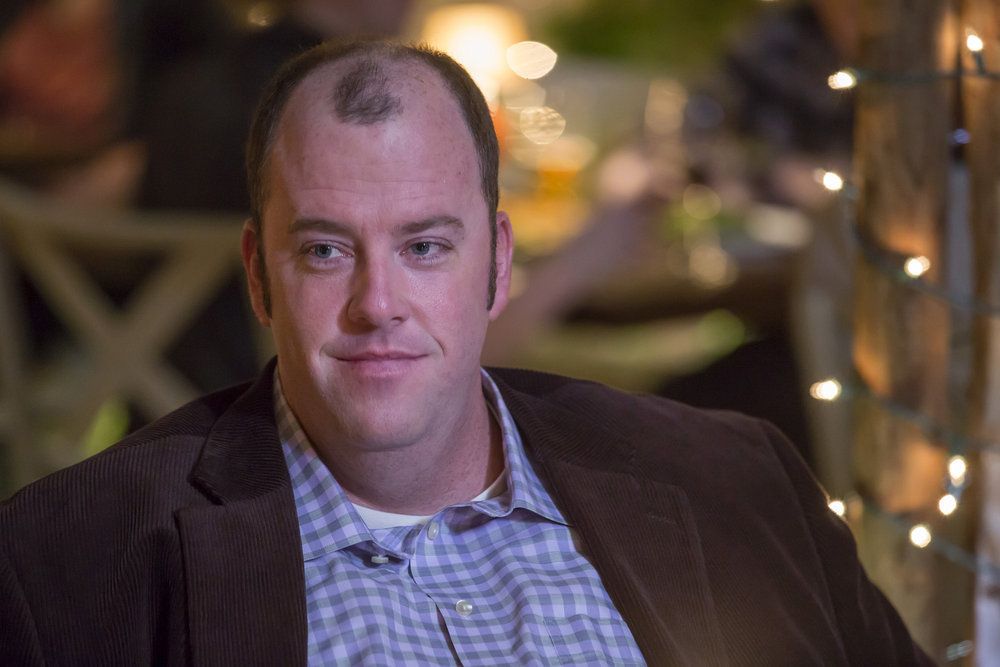 And some of you cool kids may recognize him as Taserface from Guardians of the Galaxy Vol. 2.
However, if you binged one particular popular show this past year than you have definitely seen Chris Sullivan somewhere else, you just may not have noticed him.
That's right – Chris Sullivan actually played Benny, the beard wielding diner owner that found Eleven in the pilot episode of Stranger Things titled "Chapter One: The Vanishing of Will Byers." Since Stranger Things premiered on Netflix about two months before This Is Us did on NBC, and let's be honest we all binged it immediately, you most likely missed his brief appearance!
When Benny first came in contact with Eleven she was stealing french fries from the back. At first, he was not happy with the little thief, but then when he realized that this thief was actually a terrified and starving young girl he fed her, gave her something to wear, and did everything he could to get her some help. Of course, he had no idea what Eleven's backstory was or the dangerous people that would be coming after her, so by trying to help her he basically signed his own death certificate.
After calling Child Services, a woman shows up claiming to be the social worker but ends up being from Hawkins Laboratory after they traced his call. She ends up shooting and killing Benny, leaving Eleven to run off and fend for herself.
While it was a small role, it was a pivotal role because he was able to show Eleven that there was kindness in the world, not just monsters like the people that had treated her like some sort of experience. She would take the small amount of trust that she gave to him in those fleeting scenes and carry that with her when she meets Mike and the gang.
Much like Toby on This Is Us, Benny was an instantly likable guy who seemed to have a pretty good head on his shoulders. It was pretty shocking when he was killed because he was certainly a scene stealer, which now seems to be a common characteristic of many of Sullivan's recent roles, and I was really looking forward to spending some more time with him on the show. And after taking to Twitter, I discovered that I was not alone.
I'm rewatching stranger things and benny deserved better

— Casserole (@quaokscn) October 7, 2017
I will never understand why they killed my guy Benny in the first ep of stranger things

— jAmEs (@ShadowBtH) October 1, 2017
Controversial @Stranger_Things opinion – Benny's death is sadder than Barb's pic.twitter.com/0npC6VIroc

— A B I R O S E (@abirose___) October 7, 2017
However, one Twitter user did manage to put his death in a little bit better of perspective for me.
the way Benny died made u realise there would be no predictability with this show, & thats always a sign its going to be great.

— ScatterBrainUK (@ScatterBrainUK) October 8, 2017
Well, fans of Benny can somewhat rejoice as Sullivan is rocking some very similar facial hair on This Is Us Season 2.
Did you catch this cameo on Stranger Things?
Having studied Media & Writing at James Madison University, I always knew that I wanted to do some type of creative writing, but being able to write about zombies, Starks, and superheroes on a daily basis for Fan Fest is my actual dream. While I probably shouldn't be as proud as I am to be so similar to Nick Miller, I do hope to one day write my own "Pepperwood Chronicles'.