Danai Gurira Weighs in on an All-Female 'Avengers' Movie
Published on April 25th, 2018 | Updated on April 25th, 2018 | By FanFest
One of the reasons that the Avengers films are some of the most anticipated and popular cinematic events is because they bring together a group of our favorite heroes and villains who wouldn't normally share the screen and put them together for 2 hours of action-adventure fun. So, as moviegoers prepare to flock to the theaters for the latest installment, Avengers: Infinity War, there's another superheroic team-up that's on the brain!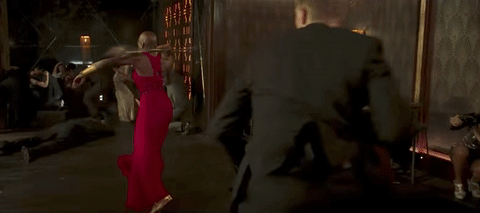 It all started when Guardians of the Galaxy's Karen Gillan posted a picture of her and some fellow women of the MCU at the 10-year anniversary photo-shoot. It included Tessa Thompson (Thor: Ragnarok), Zoe Saldana (Guardians of the Galaxy), Pom Klementieff (Guardians of the Galaxy Vol. 2), Scarlett Johansson (Avengers), Evangeline Lilly (Ant-Man and the Wasp), Brie Larson (Captain Marvel) and Danai Gurira (Black Panther) all looking extremely fierce!
Shortly after the photo was posted, everyone immediately wanted an all-female version of the Avengers, and while Gurira, who played the badass Okoye in Black Panther, was on her press tour, she stopped by Ellen and talked about her feelings towards the idea.
"I think it is a rumor, but the cool thing is that it's showing there's this hunger for that type of thing. I know that the awesome Brie Larson is filming Captain Marvel as we speak, so these things are starting to happen, and I think it's really exciting because it shows that yeah, of course, it's time we start seeing the perspective of the story come exclusively from women," she told Ellen DeGenereous. "Magic happens when women do their thing, so we'll keep on hoping for now."
After the outpouring of support from fans, the ladies took the idea to Kevin Feige, Marvel Studios chief.
"It is an embarrassment of riches. Even watching the audience at the Black Panther premiere respond to Lupita, Letitia, and certainly Danai in their action sequences … you watch Danai spinning around in that casino, taking out dozens of people, and you go, 'Of course you can make a whole movie about that!'" Feige told told Vulture earlier this year.
For a while, there were rumors that Warner Bros. was moving forward with an all-female DC movie called Gotham City Sirens starring Margot Robbie following some of Gotham City's most notorious female criminals. While it's still not in production, fans were extremely excited about the possibility, so if Marvel was to do the same thing, we know that it would be a huge hit because as of late the ladies are totally killing it in the Marvel world.
What do you think about the idea of an all-female Avengers? Check out Danai's full interview with Ellen below.
Source: EW
Having studied Media & Writing at James Madison University, I always knew that I wanted to do some type of creative writing, but being able to write about zombies, Starks, and superheroes on a daily basis for Fan Fest is my actual dream. While I probably shouldn't be as proud as I am to be so similar to Nick Miller, I do hope to one day write my own "Pepperwood Chronicles'.