Danai Gurira on 'Black Panther' Golden Globe Nominations: "It felt amazing"
Published on December 6th, 2018 | Updated on December 6th, 2018 | By FanFest
Black Panther may have come out all the way back in February, but it's still on the top of everyone's minds. This morning the Marvel film was nominated for three Golden Globe Awards including Best Motion Picture – Drama, Best Original Score (Ludwig Göransson), and Best Original Song ("All the Stars"). The film's nominations mark the first Marvel Studios movie and first superhero movie to earn a Golden Globe nomination in the Best Motion Picture Drama category.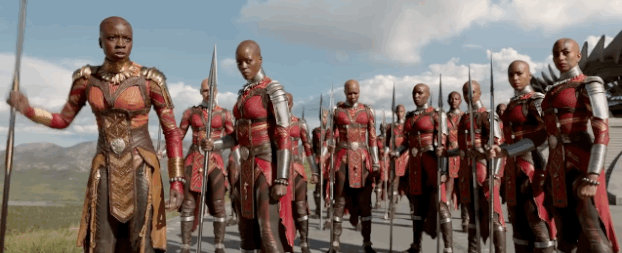 The Walking Dead's Danai Gurira, who played Okoye, the fiercely loyal right-hand to T'Challa, in Black Panther, was in attendance at the nominations and caught up with E! News to give her instant reaction to the exciting recognition.
[row]"It felt amazing. It felt great. It felt really really awesome."[/row]
Of course, when it comes to Black Panther it's the highly anticipated sequel that's one everyone's minds. Well, that and the Avengers 4 trailer. Gurira also provided a quick update on the status of the follow-up film.
[row]"I have no idea when…Ryan [Coogler] is working away, but I don't think he's at a script stage as far as I know."[/row]
Up next for Gurira in the MCU is Avengers 4 and earlier this year, the Russo Brothers revealed that they were looking forward to Okoye having a bigger role.
[row]"It's unfortunate because half of them are gone now, but of the ones that are left? Danai [Gurira] did, I thought, amazing work in Infinity War. And I think that that character is very powerful and super compelling and I think there's a lot of places to go with that character, Joe Russo told Entertainment Tonight."[/row]
You can watch the quick clip below!
In addition to her role in the MCU, Danai Gurira is best known for being the badass katana-wielding Michonne on The Walking Dead. She has been on the series since season 2 and will return when the back half of season nine premieres on February 10th on AMC!
The Golden Globes, which will be hosted by Andy Samberg and Sandra Oh, will air on January 6, 2019, 8:00 PM EST on NBC.
Having studied Media & Writing at James Madison University, I always knew that I wanted to do some type of creative writing, but being able to write about zombies, Starks, and superheroes on a daily basis for Fan Fest is my actual dream. While I probably shouldn't be as proud as I am to be so similar to Nick Miller, I do hope to one day write my own "Pepperwood Chronicles'.