Chris Pratt and Michael Rooker are Literally Hanging Out in this 'GoTG Vol. 2' Video
Published on December 15th, 2017 | Updated on December 15th, 2017 | By FanFest
Michael Rooker and Chris Pratt are bringing a whole new meaning to hanging out in this behind the scenes clip that Guardians of the Galaxy Vol. 2 director James Gunn released on Facebook.
https://www.facebook.com/jgunn/videos/10154762474236157/
He captioned the video: Looking through my phone and came across this. Chris Pratt and Michael Rooker just hanging around (literally) on the set of Guardians of the Galaxy Vol. 2. Chris does an impromptu dance.
Fans will probably recognize the behind the scenes clip as one of the more popular moments from the movie:
The relationship between Rooker's Yondu and Pratt's Peter Quill was one that was prominently explored throughout the film and this scene not only recognized the special and fun relationship that they shared but also pointed out just how different the worlds they actually came from were.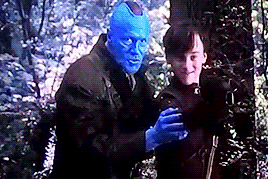 Rooker and Pratt had such a great father-son chemistry in the movie and it's clear that the two are close in real life as well. When talking to LA Confidential, Rooker briefly touched on what it's like working with funnyman Chris Pratt.
I always think that my humor is way funnier than Chris Pratt's, except I'm not funny. In my mind, I think I'm very funny, but I'm not too funny. Yeah, Chris is funnier, okay. You got it out of me. Geesh, the guy is funny. Damn it, he's funny. Chris is a great guy.
You can watch the infamous Mary Poppins scene here:
https://www.youtube.com/watch?v=Rtr9rDQ3_gk
Related:
'Guardians of The Galaxy': Chris Sullivan says James Gunn Makes Set Fun
Michael Rooker Takes a Snooze in this Hilarious 'Guardians of the Galaxy: Vol 2' Blooper
'Guardians of the Galaxy': Yondu Mary Poppins takes San Diego Comic Con
Having studied Media & Writing at James Madison University, I always knew that I wanted to do some type of creative writing, but being able to write about zombies, Starks, and superheroes on a daily basis for Fan Fest is my actual dream. While I probably shouldn't be as proud as I am to be so similar to Nick Miller, I do hope to one day write my own "Pepperwood Chronicles'.