Charlie Hunnam Reunites With His 'Sons of Anarchy' Crew
Published on December 3rd, 2018 | Updated on December 3rd, 2018 | By FanFest
Sons of Anarchy is aging like a fine wine and so is its cast. Fans attending the Wales Comic Con this past weekend were in for quite the treat as a lot of the MC crew were in attendance, including series star Charlie Hunnam.
While the cast of Sons of Anarchy often reunites at conventions and other events, Hunnam is much more scarce with his appearances due to his heavy filming schedule.
Theo Rossi, who played Juice on the series, shared a couple of pictures of the guys at the convention and we have to admit that they are looking sharper than ever. First, there was this photo of Rossi, Hunnam, Tommy Flanagan (Chibs) and Kim Coates (Tig) looking like they just popped out of Peaky Blinders.
https://www.instagram.com/p/Bq4qQf2BOHT/
He then followed up that dapper shot with a more casual photo including Ryan Hurst, who is about to appear on the upcoming season on The Walking Dead.
https://www.instagram.com/p/Bq5Mlpjhixg/
While Hunnam may not always be with his MC brothers at conventions, he has always spoken reverently about his time on Sons and just how much the series meant to him.
[row]"I had the deepest experience of my career coming out of that. I had become that character, had become so deeply integrated into who I was, I literally didn't realize until the day we wrapped and we put him to rest and I felt I went through a period of two or three weeks of, like, real bereavement," he told Entertainment Weekly earlier this year.[/row]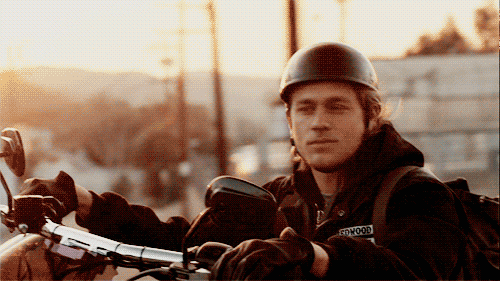 Sons of Anarchy has always been one of the more beloved television dramas of the past decade. The Kurt Sutter motorcycle series brought something completely unique to the FX lineup when it premiered in 2008. The series followed the Sons of Anarchy motorcycle gang in the ironically named Charming, CA, through the eyes of their vice president – Jax Teller (Hunnam). It focused heavily on the themes of brotherhood, redemption, and loyalty for seven seasons and people loved every second of it. Married With Children's Katey Sagal gave a brilliant performance as Gemma Teller-Morrow, which landed her the Golden Globe in 2010 for the role. By the time that season 3 rolled around, Sons was FX's highest-rated series, surpassing previous hits such as The Shield, Nip/Tuck, and Rescue Me.
It has since inspired a comic book, a novel series, a video game, and the Mayans MC spinoff series, which is currently airing on FX. It was recently announced that Sons would be leaving Netflix this month, which fans didn't take too well, but the series is currently streaming on Hulu and presumably will be on Disney/Fox's upcoming streaming service.
On the horizon, Hunnam will be starring in Max Winkler's Jungleand alongside Unbroken's Jack O'Connell and The End of the F***ing World's Jessica Barden. The movie follows a reluctant bare-knuckle boxer (O'Connell) and his brother (Hunnam) as they travel across the country for one last fight, but an unexpected travel companion (Barden) exposes the cracks in their bond along the way. He also will appear with Russell Crowe in the True History of The Kelly Gang. Also starring Captain Fantastic's George MacKay, X-Men's Nicholas Hoult, and The Babadook's Essie Davis, the movie follows notorious bushranger Ned Kelly (MacKay), one of the world's greatest outlaws, and the colonial badlands from which he rose.
Were you excited to see the cast of Sons of Anarchy back together?
Having studied Media & Writing at James Madison University, I always knew that I wanted to do some type of creative writing, but being able to write about zombies, Starks, and superheroes on a daily basis for Fan Fest is my actual dream. While I probably shouldn't be as proud as I am to be so similar to Nick Miller, I do hope to one day write my own "Pepperwood Chronicles'.