Chandler Riggs Talks Negan, Carl's Sheriff Hat and More in Our Exclusive Interview
Published on October 29th, 2017 | Updated on May 4th, 2018 | By FanFest
Walker Stalker Con is an amazing experience that every Walking Dead fan should get to be a part of. So, Fan Fest News is bringing you live interviews from the convention so that you can share in the magic at home!
We got the chance to sit down and speak with Chandler Riggs who has played Carl Grimes on The Walking Dead since season 1. Having grown up on the show, Riggs and Carl have gone through so many changes, highs and lows, and obstacles and we were lucky enough to get some insight into what that experience has meant to him, what's in store for Carl this season and even answered some of your submitted questions!
https://www.facebook.com/FanFestNews/videos/1606799906038571/
Fan Fest: How has playing Carl for over 100 episodes changed you as a person and an actor?
Chandler: It's been the coolest thing ever to have grown up on the show and spend almost half my life being part of something this cool.
FF: Is there anyone that you would like to have more scenes with?
C: Definitely Jeffrey Dean Morgan. He's so much fun to work with and he's such a good actor and it makes my job super easy.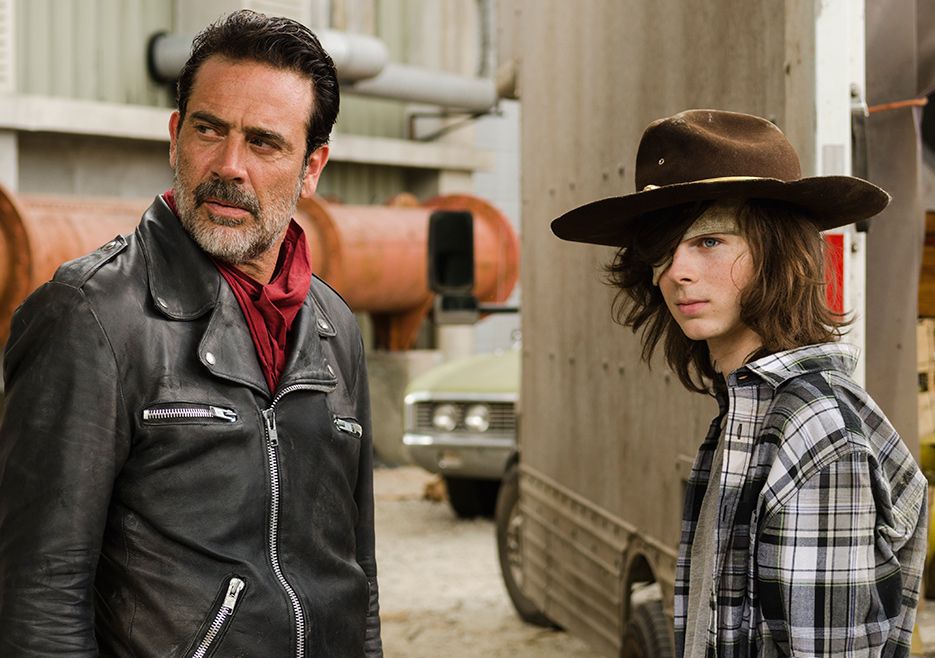 FF: What can fans expect with the tone and pacing for this upcoming season?
C: It's definitely a lot more upbeat than last season. Last season was more about building up and getting everyone to rise up against the Saviors. This season is really about the war against the Saviors and Alexandria, the Kingdom and the Hilltop fighting against the Saviors.
FF: How was it reuniting with old cast members on the 100th episode Talking Dead special? 
C: It was so cool. We had no idea that they were even going to be there. We had no idea that Iron E. [Singleton] or Michael Rooker. It was really cool to get to see everyone again.
FF: What would you decide for Carl's fate if it were up to you?
C: Ultimately, I wouldn't want him to die, that would suck because I like my job. If he had to go out it would be awesome to have him go out in a battle against the Saviors or something.
FF: Do you think Carl agrees with Rick's actions?
C: He does to a certain extent. I think that a lot of the season is going to be a lot of people influencing Rick. So it's going to be a lot of Carl pushing Rick to be more of a humanitarian and kind of realize that not everyone is a bad person and people can change. Everyone has changed on the show so much. Rick has gone in and out of being a psychopathic murderer and Morgan he's gone from being insane in Season 3 and now he's totally fine. Carl realized that people can change and certain circumstances affect people differently and there are normal people in the Saviors that think what they're doing is right.
FF: What's the biggest thing Carl's had to adapt to?
C: Kids, in general, adapt to new situations better than adults do and he doesn't really have that sense of his old life being ripped from him. There have been so many things that have changed Carl's life, but a few of the big things would be Lori dying, losing his eye, Abraham getting bludgeoned to death.
FF: How is Carl doing mentally? 
C: I think he's okay right around now. I think that he hasn't been okay in the past, but now at this point in time, he's doing pretty well for himself.
FF: How do you feel about Carl still wearing the Sherrif's hat?
C: For Carl, it s symbol of power and it makes him feel safe. It makes him feel like his dad is always with him, which is why he wears it when he goes outside the walls. He likes it.
FF: What's been your favorite episode? 
C: It's coming up this season!
FF: Being a part of such a huge series, is it what you expected it would be when you auditioned? 
C: No. At the time in 2010, everyone cared about vampires, it was all about Twilight. No one really cared about zombies, zombies were not cool. I don't think any of us expected the show would be as big of a deal and a hit as it is.
Thanks for all of your questions and be sure to check back on Fan Fest for more exclusive interviews and content about everything that's going down at Walker Stalker Con Atlanta!
More from Walker Stalker:
Sonequa Martin-Green Talks Playing Two Incredibly Strong Female Roles
Andrew Lincoln on Babies, Not Shooting Negan and his Recent Gift from Norman Reedus
Abraham's Army Take the Stage and Bring the Laughs at Walker Stalker Con
Be sure to check out our Facebook page for more about The Walking Dead and all things entertainment!
Having studied Media & Writing at James Madison University, I always knew that I wanted to do some type of creative writing, but being able to write about zombies, Starks, and superheroes on a daily basis for Fan Fest is my actual dream. While I probably shouldn't be as proud as I am to be so similar to Nick Miller, I do hope to one day write my own "Pepperwood Chronicles'.