Bruce Willis Just Settled the 'Die Hard' Christmas Debate
Published on July 16th, 2018 | Updated on July 16th, 2018 | By FanFest
One of the most long-running and iconic Christmas movie debates falls around one Bruce Willis action film – Die Hard. For years, people have argued over whether or not the movie, which takes place during Christmas, is indeed a Christmas movie. There aren't any mysterious Santa's imparting wisdom or Christmas morning present unwrapping, there's just John McClane armed with a tank top and a gun taking on terrorists in a Christmas Eve heist. Hence, the debate.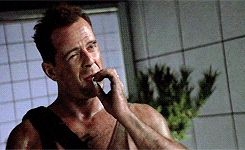 Well, this past weekend Bruce Willis was treated to his very own roast at Comedy Central and after hours of his closest friends and family letting him have it, he clearly wanted to have some fun of his own, ending the evening with an announcement that would most likely crush the hearts of movie buffs everywhere.
[row]"Die Hard is not a Christmas movie. It's a goddamn Bruce Willis movie!"[/row]
When reporters asked him after what the fans of the franchise will say about his thoughts, he only said:
[row]"We'll see."[/row]
This isn't the first time someone close to the Die Hard franchise has inserted themselves into the debate. Last year, Die Hard's writer Steven de Souza confirmed on Twitter that John McClane and all of his "Yippee-ki-yaying"  was, in fact, a Christmas movie.
@StevenEdeSouza I'm sure you e weighed in on it before, but I've never heard you or Jeb Stuart offer your take on whether Die Hard is a Christmas movie

— Jake Tapper (@jaketapper) December 24, 2017
Of course, Bruce Willis' declaration doesn't falter my stance that it is absolutely a Christmas movie and I already know of one other person who would probably agree.
Die Hard hit theaters July 1998 and followed John McClane (Bruce Willis), an NYPD officer that tries to save his wife Holly Gennaro (Bonnie Bedelia) and several others that were taken hostage by German terrorist Hans Gruber (Alan Rickman) during a Christmas party at the Nakatomi Plaza in Los Angeles. The movie earned over $140 million at the Box Office and became the first installment of a six-film franchise.
So, even though Bruce Willis has spoken, what's your stance? Is Die Hard a Christmas movie or not?
Having studied Media & Writing at James Madison University, I always knew that I wanted to do some type of creative writing, but being able to write about zombies, Starks, and superheroes on a daily basis for Fan Fest is my actual dream. While I probably shouldn't be as proud as I am to be so similar to Nick Miller, I do hope to one day write my own "Pepperwood Chronicles'.