'Breaking Bad' Turns 10! Bryan Cranston on His Hardest Scene to Film
Published on January 20th, 2018 | Updated on January 20th, 2018 | By FanFest
The iconic and brilliant television series Breaking Bad turns 10 today! On January 20, 2008, Walter White and his clueless apprentice Jesse Pinkman started cooking crystal meth and the world of TV was never the same. Under the penmanship of Vince Gilligan, Breaking Bad went on to win 16 Emmy awards and currently holds a 97% on Rotten Tomatoes. It inspired a spin-off and still remains to be on the most well-written and thought out series to ever hit the small screen.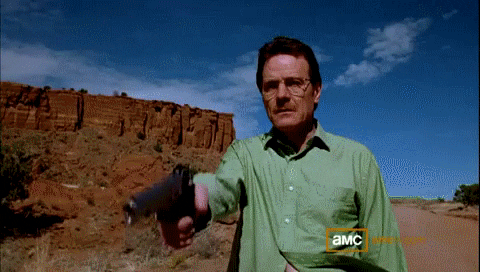 The show starred Bryan Cranston, who took the role of a cancer-stricken Walter White and transformed him into the terrifying 'One Who Knocks' Heisenberg over the course of 5 seasons, alongside the fabulous Aaron Paul who brought the young Jesse Pinkman to some of the darkest places yet still managed to throw out a perfect 'Bitch!'.
To celebrate the shows 10th anniversary, People TV got up with Cranston to discuss the importance of the series and what the hardest scene for him to film was.
"Walt watches Jane die was probably the most difficult scene for me to shoot, emotionally," he said about the death in which Walt stood by as Jesse's girlfriend (Krysten Ritter) choked on her own vomit.

"Because, temporarily, I saw the image of my own daughter in her face rise to the surface, take the place of Krysten Ritter, and then just as quickly disappear. But it was just instantaneous, that millisecond was all that it took for me to catch myself. Because again, I thought one of the reasons to save this person was because she's a young woman, she could be my daughter."
Jane's death was a huge turning point for Jesse's character and Walt's decision to not help her in order to prevent her from blackmailing him would be a choice that would have huge consequences moving forward.
Cheers to 10 years, Breaking Bad!
Related:
AMC Celebrates the 10th Anniversary of 'Breaking Bad' with a Full Series Marathon
Netflix's Fan Theories: Do 'The Walking Dead' and 'Breaking Bad' Exist in the Same Universe?
10 Shows That Are Turning 10 in 2018
Having studied Media & Writing at James Madison University, I always knew that I wanted to do some type of creative writing, but being able to write about zombies, Starks, and superheroes on a daily basis for Fan Fest is my actual dream. While I probably shouldn't be as proud as I am to be so similar to Nick Miller, I do hope to one day write my own "Pepperwood Chronicles'.