'Breaking Bad' Fans Came A-Knockin' on Twitter After Movie News
Published on November 8th, 2018 | Updated on November 8th, 2018 | By FanFest
Lights, camera, action, bitch! It's been revealed that a Breaking Bad movie from creator Vince Gilligan is in the works at AMC that will reportedly follow Aaron Paul's character, Jesse Pinkman, after the events of the series finale.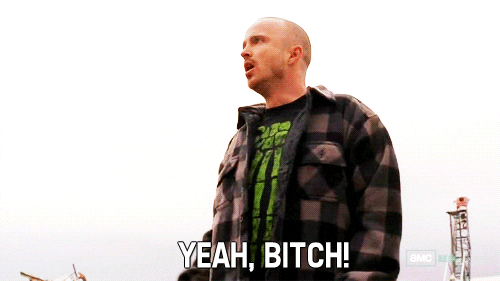 Breaking Bad premiered in January 2008, on AMC and followed Bryan Cranston as Walter White, a high school chemistry teacher diagnosed with cancer who finds himself in the dark world of cooking meth with his clueless apprentice Jesse Pinkman (Paul). The series went on to win 16 Emmy awards and currently holds a 97% on Rotten Tomatoes. It also inspired a spin-off, Better Call Saul, and still remains to be on the most well-written and thought out series to ever hit the small screen.
Seeing that the series finale definitely left some things open for interpretation, fans were absolutely freaking out about the news that the universe would be not only continuing but expanding. If you're having Deja Vu, you may want to head on over to our Walking Dead section to read all about their upcoming film venture as well.
So let me get this straight, #BreakingBad movie and #WalkingDead movies have been confirmed basically the same time… It's like they are the same universe or something 👀😁

— BossLogic (@Bosslogic) November 7, 2018
So, instead of throwing a pizza on the roof out of excitement, we decided to gather up some of our favorite reactions to the movie announcement. Check them out below!
1.
Me investigating if this Breaking Bad movie news is legit.#Breakingbad pic.twitter.com/Du716LjLfi

— Vegan Turkey TONY (@ObiOneBalogna) November 6, 2018
2.
I'm not really the fanboy type, however after the announcement that a #BreakingBad movie is being worked on by #VinceGilligan with Jesse as the main character set in the aftermath of the show this was LITERALLY my reaction. pic.twitter.com/t92mFxe4FQ

— Václav (@fanta_vaclav) November 7, 2018
3.
If Jessie dies at the end of the Breaking Bad movie I will cry then riot.

— collin OG spaceman 👨🏻‍🚀 (@CopierCollin) November 7, 2018
4.
probably future me watching new breaking bad movie pic.twitter.com/YqE2fIi2nD

— i'm like abed nadir but less cool (@coolabedflms) November 8, 2018
5.
The announcement of the #BreakingBad movie has reminded me why it's my favourite show of all time ❤️ pic.twitter.com/rfnuDYkzgo

— Sam (@samshawmedia) November 7, 2018
6.
Words can't express how great this news is!! There was no final closure for Walter White. Give Heisenberg a farewell on the big screen, it's fitting. Jesse's story had more closure because he broke free. What happened once the cops grabbed Walter? Revived him? #BreakingBad

— Michael Baker (@TheRealBakeShow) November 7, 2018
7.
Hearing that Breaking Bad is getting a feature film has been the best way to start a Wednesday. SO PUMPED!!

— Jon (@MrDalekJD) November 7, 2018
8.
I'm going just assume the Breaking Bad movie that was announced is "The Adventures of Badger and Skinny Pete" #breakingbadmovie pic.twitter.com/D0Y2Grqnph

— tyler (@tympeter) November 7, 2018
9.
Breaking Bad movie?! pic.twitter.com/fN1LQBZbbY

— GP 🌙 (@GPatty_) November 8, 2018
10.
tfw you finally binge your way through #breakingbad and permit yourself to google without fear of spoilers only to learn that news of a movie all about your favorite character was released the day before. #blessed pic.twitter.com/tXFmToaZQj

— amanda lavin (@amandalavin) November 8, 2018
11.
I think the movie will be where the ending of Breaking Bad and Better Call Saul converge #BreakingBad #breakingbadmovie

— FK (@FazlurKarim) November 8, 2018
12.
Aaron Paul will always be Jesse Pinkman to me, whatever film I see him in, so definitely liking the sequel idea #BreakingBad pic.twitter.com/qZhCp8IzyA

— Michelle Ruane (@parmopel_tees) November 8, 2018
13.
In Vince Gilligan we trust. #BreakingBad

— kodos (@kodosGS) November 8, 2018
Are you excited about the Breaking Bad movie? The entire series is currently streaming on Netflix!
Having studied Media & Writing at James Madison University, I always knew that I wanted to do some type of creative writing, but being able to write about zombies, Starks, and superheroes on a daily basis for Fan Fest is my actual dream. While I probably shouldn't be as proud as I am to be so similar to Nick Miller, I do hope to one day write my own "Pepperwood Chronicles'.