The 'Breaking Bad' Cast Did the Impossible and Picked a Favorite Scene
Published on July 2nd, 2018 | Updated on July 2nd, 2018 | By FanFest
AMC's groundbreaking and Emmy-Award winning series Breaking Bad is celebrating its 10 year anniversary and the entire cast recently sat down with EW to talk all about the what was deemed as one of the "best series of all time" by audiences and critics alike. A lot happened to Walter White and the people in his orbit over the course of five seasons, so you can imagine how hard it was for the cast to pick just one moment that stood out as their favorite, but alas they did. The cast will soon be getting together for a panel at San Diego Comic-Con, but until then take a trip down memory lane and relive the cast's favorite moments below!
Dean Norris (Hank Schrader)
Hank had his fair share of intense moments throughout Breaking Bad, but his favorite scene was one of Hank's more vulnerable scenes from 3×07 "One Minute" where he opens up to Marie.
AMC
[row]"It was the 'One Minute,' episode, but it wasn't the shootout, which was a great scene. My favorite scene was sitting on that bed with my wife and just letting it all hang out. All the stuff that he thought he was, his whole life had become unhinged and unglued. My favorite line from writer Tom Schnauz — he wrote that great conversational speech — was, 'I'm just not the man I thought I was.' Even today, I get a little chilled just thinking about that because for any man to have to say that "I'm just not the man I thought I was"— it's, like, f—. It's so heartbreaking. That scene will always have a special place in my heart, sitting on the bed and just pouring out all this s— to his wife, and the way she looked at Hank, you could tell that she really loved him."[/row]
Jonathan Banks (Mike Ehrmantraut)
Banks chose a tender moment between Mike and Jesse from 5×07 "Say My Name" as his favorite moment. The scene found the two saying goodbye with Jesse saying he was quitting the meth business for good and Mike telling him "Kid, just look out for yourself."
[row]"It was so emotional, and it's just a small scene. I tell Jesse to be careful and I leave. I've always said I don't think he could save Jesse. But he thought there was a chance that maybe he could get out of the life. Not unlike Mike, I can't describe the level of empathy or protection maybe that he felt toward Jesse as he's walking away."[/row]
Bob Odenkirk (Saul Goodman)
Odenkirk's favorite moment comes from Saul Goodman's breakout episode 2×08's "Better Call Saul" when he first reveals himself to be the iconic fraud that he is.
[row]"It was so goddamn well-written. I loved that first scene where he introduces himself. It was so different in tone from anything I had done… My God, there's a lot to do in there. I couldn't believe how much Saul there was. I'm aghast, alarmed, at my own confidence in playing the character. I mean, I didn't know what the f— I was doing. I was just taking a run at it, and more than half expecting to be told, 'You can go home now. We're going to get a real actor.' I was amazed at how completely I embraced the character and dug in. The monologue is really fun, where he's telling Walter White that he's a fraud and that it's a front. And he's just enjoying himself. That was really fun to play — and I fully understood how much fun it was at the time."[/row]
Betsy Brandt (Marie Schrader)
Brandt looked back at the season 1 moment when the family was trying to convince Wal to seek treatment for his cancer, but when it comes to Marie she tells Walt "I think you should do whatever you want to do," even though it was going against her sister's wishes.
[row]"I saw the future of the show in the way that scene was written. It just crystallized every character. I think it just solidified who Marie was to me. She's not easy, but she's not bad. She believes what's right, and she thought, 'That's what was right for Walt. It's not our decision to make, and even if my sister's going to be pissed at me, and everyone's going to disagree and think I'm crazy, I'm going to side with this guy.'… Sometimes you have those moments when you're doing TV or movies, and when you do a scene and you're like, "Oh, man, everything just happened" — every mark you wanted to hit, every beat you wanted to get. It really was just magic. I felt like it was magical."[/row]
Giancarlo Esposito (Gustavo Fring)
Esposito's work in Season 4's "Box Cutter" was on another level. As Gus menacingly walks around Jesse and Walt with a box cutter, Walt desperately tries to explain that they had no choice but to kill Gale. The tension in the air is so incredibly thick and when Gus turns and kills Victor instead before saying "Well, get back to work," to Walt and Jesse a huge sigh was heard all around the Breaking Bad fandom.
[row]"Much of acting is to be able to say without words, and in 'Box Cutter' I certainly had that opportunity. It's almost 10 minutes without saying anything. I always equate that to Harold Pinter — who I love — and how Pinter wrote in 'Pinter pauses' — very, very long pauses where no one said anything and characters are just looking at each other on stage or doing something physically with nothing said. In that silence of vocality, there is so much being said."[/row]
Anna Gunn (Skyler White)
Unable to pick just one scene, Gunn narrowed it down to the moment in season 4 when she pretended to be a ditz to the IRS so they wouldn't suspect her of cooking Ted's books and the season 5 moment where Skyler tells Walt "all I can do is wait…for the cancer to come back."
[row]"It was such a blast to do that scene," Gunn says of her season 4 pick "She looked like she wasn't going to play ball and then she says, 'Well, I guess I got to do this.' So, she fully plays the part. It was a lot of fun to do that. Again, it shows the lengths that she'll go to and, I think, even the surprise to her of, 'Huh, if I play this game, I can actually be pretty good at it.'"[/row]
[row]As for her season 5 moment, "It's such a brilliantly written scene. I look at that scene all the time because it's like chess. 'If you play that, then I'm going to play this.' Then she realizes really quickly, just in that scene, 'Any move I make, he's always going to be right on it.' All she has [left] to say is, 'I've done everything I can to get those kids to safety and now all I can do is wait.' It's an awful, awful thing for her to say and it surprises her, I think, in the moment. But it's the only out that she can see."[/row]
RJ Mitte (Walt Jr.)
Mitte's favorite moment actually happened in the pilot episode when Walt confronts the bully picking on Walt Jr. while they were jean shopping.
[row]"I think it was definitely a growing moment when the parallel universe of my life and Walt Jr.'s life kind of melded, and then just solidified everything for me. I remember we had a great time, and it was a good day… That whole little second half of that scene was all improv. It was two sentences, but there's very few moments on the show where we had that, and that was one of the moments."[/row]
Aaron Paul (Jesse Pinkman)
Jesse Pinkman definitely brought the humor in the early seasons of Breaking Bad, so it's only fitting that Paul picked one of the show's funniest moments for his favorite scene – the awkward dinner between the Walt, Skyler, and Jesse.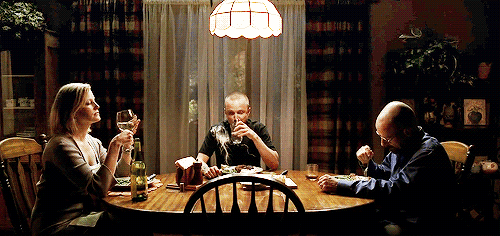 [row]"I think that really stands out — just Jesse holding onto his glass of water as if it's his security blanket," says Paul. "He's kind of hiding behind his glass of water watching this marriage sort of just fall apart in front of his eyes. When Skyler says, 'Did he also tell you about my affair?'— I've seen that scene so many times and I laugh each time, just at the absurdity of it all."[/row]
Bryan Cranston (Walter White)
Cranston has spoken in the past about the scene where Walt watches Jane die as being a standout, but when it came to picking his favorite, he went with the season 5 scene with the train heist that ended with Todd (Jesse Plemons) killing the young boy who happened to stumble upon them.
AMC
[row]"All these things had to go right — and everything went right! It was fantastic! I remember the characters celebrating euphorically in pulling off the train heist of the century. And a moment later, an innocent life is snuffed out when that kid on the motorcycle just shows up. He's just there. And as Jesse and Walt are trying to figure out, 'Oh s—, what do we do?' Jesse Plemons' character just raises a gun and shoots him. And it was like, 'Oh my God!' It was such a beautifully constructed narrative: Okay, you want to experience the highs with Walter White? You want to be on that train ride with Jesse Pinkman? Here's that rejoicing for you, the audience. And now here's the repercussions from the business that they're in. Here's what happens when you forget that there's morality connected and consequences to every action. It was just so amazing."[/row]
What's your favorite Breaking Bad scene?
Having studied Media & Writing at James Madison University, I always knew that I wanted to do some type of creative writing, but being able to write about zombies, Starks, and superheroes on a daily basis for Fan Fest is my actual dream. While I probably shouldn't be as proud as I am to be so similar to Nick Miller, I do hope to one day write my own "Pepperwood Chronicles'.