'Big Bang Theory': FanFest Favorite Moments
Published on May 16th, 2019 | Updated on May 16th, 2019 | By FanFest
The Big Bang Theory has been a fan favorite for 12 years. While FanFest hasn't been around as long as the show, it's been a part of FanFest since the site went live. Here are some of FanFest's favorite Big Bang moments.
It's a tiara!
Sheldon and Amy AKA ShAmy has been a focal point of the show since season 4, or as Sheldon would say "she's a girl and she's my friend, but she's not my girlfriend." This was also the point in the show where female scientists Amy and Bernadette were officially added to the main cast.
"My favourite Big Bang moment was definitely when Sheldon gave Amy the tiara and it was kind of when the show started to evolve and stop being about just the boys and Penny and it finally felt like Amy was integrated in the show and you know seeing someone as serious as Amy Fowler suddenly scream 'It's a tiara!' was just adorable and made me realise how much I loved her and what a great place she had in the show," said writer Clare Brunton.
This is such a great moment for Amy. She just received amazing news that her paper will be published in a scientific journal but Sheldon is more interested in how many Twitter followers he has. She is rightfully upset with him and calls him shallow when he apologizes with jewelry. Realizing it's a tiara, she screams with joy because she's a princess and this is her tiara!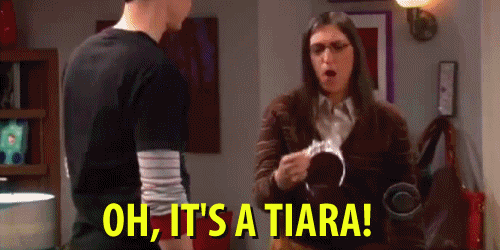 Sheldon Hugs Penny for the first time
Sheldon is truly a one-of-a-kind character. He is very particular about things (#SheldonsSpot) especially particular germs and touching other people. If you watch Young Sheldon, you'll know just how anti-human touch he is. One thing Sheldon does not do: hugs. That is, until season 2 when Penny gets him the best Christmas gift ever!
"I didn't start watching the series until the third season, but when we finally came around, my wife and I were instantly hooked. We binged the first two seasons in record time, and the show continues to make us laugh to this day. The Big Bang Theory is one of those shoes that I truly believe will be a timeless classic comedy. No matter which episode is being played, I'll turn it on. How can you not laugh at Sheldon's preferences or at a Wolowitz joke," asks writer Jon Maus. "My all-time favorite moment will always be that cringe-worthy Sheldon hug as he repays Penny for the perfect Christmas gift: Leonard Nimoy DNA."
Sheldon sees gift giving as an obligation and goes on a hunt through the "cacophonous assault of eucalyptus, bayberry, cinnamon, and vanilla" that is Bath and Body Works. He gets a bunch of gift baskets to see which one is appropriate based on Penny's gift. Penny receives all the baskets and a hug after giving Sheldon a napkin signed (and used) by his idol Leonard Nimoy. Live Long and Prosper.
Knock, knock, knock Penny.
One quirk that stands out above the rest is the knocking thing. Sheldon isn't the stereotypical quirky character, he can justify his quirks. Because of Sheldon, people didn't feel like they needed to hide their quirks. We can let out our nerdy side and not feel ashamed.
"When Big Bang Theory first premiered, I remember everybody loving it. I don't think I met anyone who didn't watch it, at least those first few years. It was one of my first introductions to the comic con scene because of Howard, Sheldon and Leonard and the comic shop. It also made it even cooler to be a nerd," says Editor-in-Chief Shannon Toohey. "As far as breaking comedy boundaries, it feels like Big Bang was one of the first to use the type of comedy that Jim Parsons brought to it. There was nothing funnier than what he brought to the character of Sheldon. And it was so good he got his own spinoff! I'll most remember the small quirks of the show, like the never-ending apartment stair conversations, and Sheldon's obsessive knocking.
In season 10, Penny wants to know the real story behind his obsessive knocking. Sheldon begins a story that he has told no one. When he was 13, on a break from college, Sheldon returned home and found his father in his parents' bedroom having an affair. That is why he knocks three times. "I mean, the first one's traditional, but two and three are for people to get their pants on," Sheldon says.

The characters!
"All of the characters are relatable in their own, nerdy way, but I think Stuart is vastly underrated. All in all, a fantastic show. Bang," exclaims Jon.
There are many things we love about this show including Bazinga!, the many weddings, Penny's love of wine and thai takeout, but it's characters that are the reason we truly love this show. From the main gang to the many guest stars like Mark Hamill, Bill Nye (The Science Guy!), Levar Burton and of course, Wil Wheaton; everyone brought something amazing to the show. The timeless humor and witty banter made the show stand out from the rest.
"All the actors made the series great and it's to them we can attribute it to. It's thanks to them for the past 12 years of humor and an epic group of friends on The Big Bang Theory," adds Shannon. "It's going to be hard to get a new comedy that rivals it, aside from Friends, I can't think of any others. So we will see in time what can come in and be the next Big Bang Theory, but they've taken over the comedy realm for the last decade and looking back it seems very fitting indeed."
This show will be missed, the story may be coming to an end, but it won't be forgotten.
When Beth "grows up" she wants to see her creations appear on the screen and stage. In her free time, Beth blogs about her love of craft beer and writes screenplays. She received her bachelors in journalism from Youngstown State and received her masters in communication from The University of Akron. She is honored to be a part of the FanFest family.