Betsy Brandt on the One 'Breaking Bad' Scene She Hasn't Watched
Published on June 29th, 2018 | Updated on June 29th, 2018 | By FanFest
Breaking Bad wasn't always the easiest show to watch. For five seasons it took us on the dark and twisted journey of Walter White as he transformed from a high school chemistry teacher to a meth kingpin named Heisenberg, which often resulted in gruesome deaths and fractured families. When Walt's brother in law, DEA agent Hank Schrader (Dean Norris), was executed by a white supremacist right in front of a pleading Walt after having spent the whole series trying to find Heisenberg, it was truly heartbreaking for fans and especially for Norris' on-screen wife Betsy Brandt who played Marie Schrader.
While speaking with the cast to EW about Breaking Bad's 10-year anniversary, Brandt reflected on just how difficult that moment was for her back when it aired in 2013 and still is to this day.
[row]"I still have not seen that scene, because I…just can't…watch them drag you. And I just can't…I just can't. And I get that it's pretend. It's not like I text like Marie all day and expect you guys to show up at my house wearing purple… It was so fun to be a part of that relationship, because they were, you know, flawed, maybe, but such good people — and to be part of the love.[/row]
The hardest thing for Brandt to swallow though was the fact that someone with as good of intentions as Hank wasn't able to survive in that world.
[row]And I just thought, 'Hank should be in the world,' you know? The world is better off with some people in it, and he's one of them. Like, he should've been in it. And I still, I just — I can't watch it."[/row]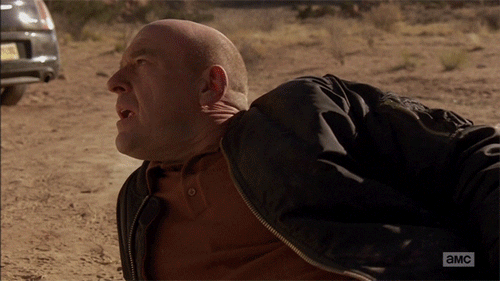 Brandt wasn't the only one who struggled with a death scene from the cast. Bryan Cranston, who played Walter White, revealed earlier this year which scene was the hardest for him.
[row]"Walt watches Jane die was probably the most difficult scene for me to shoot, emotionally," he said about the death in which Walt stood by as Jesse's girlfriend (Krysten Ritter) choked on her own vomit. Because, temporarily, I saw the image of my own daughter in her face rise to the surface, take the place of Krysten Ritter, and then just as quickly disappear. But it was just instantaneous, that millisecond was all that it took for me to catch myself. Because again, I thought one of the reasons to save this person was because she's a young woman, she could be my daughter."[/row]
The Breaking Bad cast will be reuniting at San Diego Comic-Con this year to celebrate the 10-year milestone where they are sure to provide some more insight about the highs and lows of their five years on the Emmy-Award winning series. Bryan Cranston, Aaron Paul, Dean Norris, Anna Gunn, Bob Odenkirk, Giancarlo Esposito, Betsy Brandt, Jonathan Banks, RJ Mitte, and Vince Gilligan will all be in attendance.
Do you remember Hank's death on Breaking Bad? What was the worst death for you to watch on the show?
Having studied Media & Writing at James Madison University, I always knew that I wanted to do some type of creative writing, but being able to write about zombies, Starks, and superheroes on a daily basis for Fan Fest is my actual dream. While I probably shouldn't be as proud as I am to be so similar to Nick Miller, I do hope to one day write my own "Pepperwood Chronicles'.