Ben Platt Reflects on 'Dear Evan Hansen' and His Amazing 2017
Published on December 26th, 2017 | Updated on December 26th, 2017 | By FanFest
One year ago Dear Evan Hansen opened up on Broadway and quickly became the most popular and in-demand show of 2017. Pitch Perfect's Ben Platt took on the titular role of Evan Hansen, which was the most physically and vocally challenging role of his career, and wept and belted his way to a 2017 Tony win for Best Actor in a Musical. At just 24-years-old, Platt is having his best year ever and to make things even better, he's capping it off with a Grammy nomination and a brand new record deal.
Platt recently sat down with Entertainment Weekly to talk about his stellar year and the play that changed his life. Check it out below!
ENTERTAINMENT WEEKLY: Congrats on the Grammy nomination! How did you find out about it?
BEN PLATT: I found out by receiving a call from [Dear Evan Hansen producer] Stacey Mindich early in the morning, congratulating me, and I didn't even check yet. We opened obviously a year ago so we missed the cut off last time, so this is so down the line. We made the album almost a year ago, so it sort of left my mind, but it's amazing. I love [fellow nominees] Come From Away and Hello, Dolly! — my best friend Beanie Feldstein is in Hello, Dolly! so we're in a category together which is really fun, which we never have been before. It's like a dream come true that you didn't even know you had. The Tony was what I always dreamed about, and now this is just icing on the cake. It's amazing.
This whole year must have been a whirlwind, but what sticks out?
The year has been the greatest of my life so far, and the most roller coaster-like. Obviously when I look back, the Tonys jumps out as an incredible experience and just a lifelong dream coming true in a literal way, and the fact that I got to spend it with my whole family and be present for it in a way that I really wanted to be is what I remember the most, and I worked really hard to not let it pass me by without taking it in. Beyoncé coming to see Dear Evan Hansen is another big day that pops out in my life because I was in the same room as Beyoncé — need I say more? The last performance of Dear Evan Hansen was one of the best parts of the year too, a couple weeks ago, when I finished. Just to wrap up the experience and have it be so meaningful, for my whole family to fly in and be there, and the whole cast to send me off in that way was a really special day in my life that I'll always remember.
Did you realize early on that Dear Evan Hansen was going to be as successful as it was?
We all expected Dear Evan Hansen to be artistically valuable. I think we knew from the beginning it was really beautifully done and meticulously crafted. I don't think we expected it to be so commercially successful. I don't think you ever can predict things like that, especially when it's not a pre-existing title and it's not subject matter that is necessarily, on paper, incredibly universal as far as self-harm and depression and anxiety — and deep, complex feeling is not always welcome in musical theater, but I think the music is incredibly universal and the way that it's written, there's a way in for everybody. I think we were blown away by how, at every step of the way, it became more universally loved and grew in cultural significance, which is so rare for a musical at all. So that was definitely unexpected.
The role was so physically demanding — did you need to prepare in a way that was different from your previous Broadway role in The Book of Mormon?
I think my regimen for Dear Evan Hansen, to do the role, was something I've never done before, just that it was a more demanding role than I've played. In Book of Mormon, I certainly had to get rest and get the baseline of things, but the role is a broad comedy and it's not that vocally challenging and it's just a little bit easier of a lifestyle. But this role I never left the stage and I'm signing five or six songs a night and it's emotionally very draining, so it sort of took over my life in a way that nothing has before, which I'm grateful for, because it sort of made all of the great things that happened all the sweeter because I felt like I worked hard it.
I wouldn't drink alcohol, no smoking, I wouldn't go out to loud places, no gluten or dairy, and I was also trying to stay 17-year-old looking. Those are the big things. And I couldn't do anything that exerted too much mental or emotional energy during the day because I was saving up for the evenings and trying to save the best parts of myself, essentially, for the show. I obviously miss it very much having just left, but I do love having the choice of whatever I want to do during the day and not have to worry about conserving myself for anything, and to cry of my own volition has been really nice.
How did you celebrate when you were finally free from all of that?
The first day after the show — I planned this far in advance — we went out to karaoke and I just trashed my voice, and screamed, and drank all of the drinks, and then I spent the whole first day of freedom at home watching Stranger Things, because I really love Stranger Things but I've been waiting to binge the second season until I could watch it all the way through. So I watched the whole thing, and through the course of it ordered, like, a McFlurry, and a pizza, and Chinese food, and everything that I've been waiting to have. It was a glorious day.
What was your karaoke song?
This time around, my karaoke song was "Man in the Mirror," Michael Jackson.
So what's on the horizon for you, after some well-deserved relaxation?
I'm definitely hoping to continue to take somewhat of a break. I'm certainly not as inundated with anything at the moment, which I'm really enjoying because it's been three and a half years where [the show] has been the major directive of my life. So it's been nice to see my family and take it easy and have leisurely days, but I am super excited to be working on an album with Atlantic Records. I'm making a solo album, a pop album, which I'm writing a lot of the music for — it's a brand new experience for me and a skill that I'm just now getting acquainted with. It's a little bit scary to put something out that's in my own voice, as opposed to getting the opportunity to have the comfort of a character and be able to have that safety net. It's now what am I saying, as me, the person, which is horrifyingly scary but also an exciting challenge to undertake, so the immediate project is to start writing some stuff for that and put down some music and hopefully getting it out soon. I'm developing a TV project that I'm not allowed to say much about but I'm super stoked about. That's going to be later next year, and other than that, just sort of enjoying the fruits of the last few years and enjoying being around my family and my nephews, who just keep getting bigger and bigger.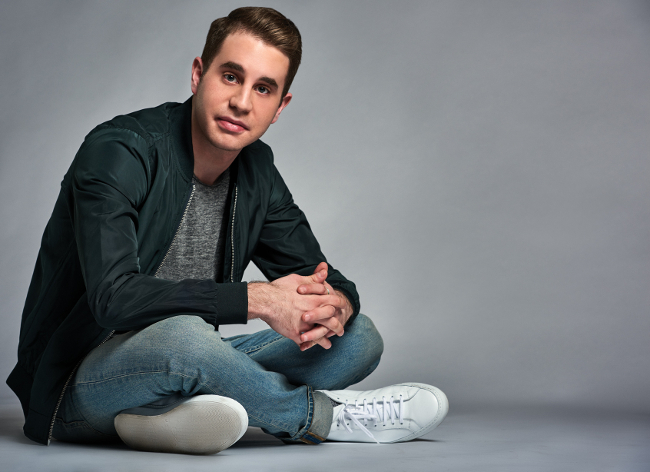 Evan has a lot of nervous tics. Did you pick any up from playing that character for so long?
My posture is pretty terrible because of Evan. I bite my nails now — I did a little bit before the show and now that I've been playing Evan for so long, it's been not very good. Literally I've been told already today that I need a manicure. So I'm trying not to keep that going forever, but luckily I didn't adapt any of the fiddling with my clothes or not being able to make eye contact with people.
Do you feel protective over the role at all, now that it's going to other people?
I always feel a certain amount of ownership over Evan, mostly because it was a big journey to make him sort of a redeemable and a lovable character because he's doing things that are morally ambiguous and rough to understand, so I always feel such a compassion for him, and so in that sense, I'm always slightly worried about his legacy. But I happen to know Noah Galvin and Taylor Trensch personally and they're good friends of mine, and the fact that they are not only wildly talented but they're people that I know and love as human beings makes it a much easier transition because I really trust them to handle it with the care it deserves. I've yet to see the show, I've never seen it in my life, and I hope to go soon — that, I think, will be a very strange experience but I'm looking forward to it. I think I'm just about ready. I'm dying to know what the show looks like because I've never seen it. I know what I think it looks like in my head, and the way things look from my perspective, but half the projections behind me I've never seen.
On a scale from 1 to 10, how tired are you of singing "Waving Through a Window"?
I'm ready to put the "Waving through a Window" sheet music in the cupboard for a little while, definitely. It's been a long, long time and I've sung it many, many times. It's the most beautiful song and it's a blessing to have a song that you're so wed to that people want to hear, and that you're immortalized singing on an album; it's a dream come true. But I am excited to get into some different music, especially my own music that I'm writing because I get to decide exactly what, stylistically and vocally, I want to do, so that's really exciting.
https://www.youtube.com/watch?v=8gPGPyyVqGQ
Platt may not be taking the stage as Evan anymore but he clearly has a lot in store for 2018 and we couldn't be more excited to see what he accomplishes!
Related:
Ben Platt Will Take His Final Bow for 'Dear Evan Hansen' This November
'Dear Evan Hansen' Cast Album Tops Katy Perry's 'Witness' on iTunes Charts
'Dear Evan Hanson': Ben Platt Passes the Torch to Noah Galvin and Taylor Trensch
Having studied Media & Writing at James Madison University, I always knew that I wanted to do some type of creative writing, but being able to write about zombies, Starks, and superheroes on a daily basis for Fan Fest is my actual dream. While I probably shouldn't be as proud as I am to be so similar to Nick Miller, I do hope to one day write my own "Pepperwood Chronicles'.