Be Still My '90s Heart – The 'Boy Meets World' Cast Just Had a Reunion!
Published on August 28th, 2018 | Updated on August 28th, 2018 | By FanFest
Gather 'round fans of anything involving '90s nostalgia! The cast of Boy Meets World just had a brilliant reunion at a Wizard World convention this past weekend and all of the photos from it have brought my '90s heart back to life (with an assist from the Backstreet Boys back in June). In attendance was the core four, which included Ben Savage (Cory Matthews), Rider Strong (Sean Hunter), Topanga Lawerence (Danielle Fishel) and Will Friedle (Eric Matthews).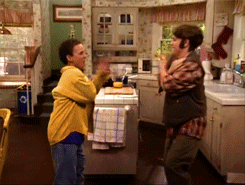 Just for fun, let's take a trip down memory lane. Boy Meets World followed a young buck named Cory Matthews as he journeyed through adolescence alongside his best friend Shawn, his #soulmate Topanga, his crazy older brother Eric, and one wise teacher named Mr. Feeny. Running from 1993-2000 with 158 episodes, the series has truly stood the test of time and is a special one to look back on as it followed Cory and the gang from middle school all the way to college. It caught every important chapter of their lives and taught fans a lot of life lessons along the way. It's a '90s staple and was one of the first show's to kick off the revival/reboot brigade when Disney brought it back in 2014 as Girl Meets World. The show followed Cory and Topanga's daughter Riley Matthews.
Let's dive into the magic, shall we? First, they blessed us with this iconic recreation:
THEY PROM POSED!
They got with the times:
Cory and Eric got together for a family dinner:
And Will Friedle joked about his decade-defying looks:
If that face doesn't make you wanna shout Fe-he-he-he-heeenay then you need to go home.
Thankfully the entire series of Boy Meets World is streaming on Hulu at the moment, so we can all relive the true glory days of television. I mean, is there an episode of television more memorable than the Boy Meets World halloween episode? I think not!
Now, that we've relived the magic of Boy Meets World for a short few minutes let us all continue "wandering down this road we call life" until something else brings my '90s heart back to life!
Having studied Media & Writing at James Madison University, I always knew that I wanted to do some type of creative writing, but being able to write about zombies, Starks, and superheroes on a daily basis for Fan Fest is my actual dream. While I probably shouldn't be as proud as I am to be so similar to Nick Miller, I do hope to one day write my own "Pepperwood Chronicles'.