'Avengers: Infinity War' Only Took Place Over Two Days
Published on August 3rd, 2018 | Updated on August 6th, 2018 | By FanFest
A lot happened during Infinity War's two-hour-plus running time. Avengers and heroes from the past ten years gathered all around the world and the galaxy to prevent Thanos from collecting all the stones he needed for his Infinity Gauntlet. From Thor's Asgardian ship in the opening to New York and Wakanda to Knowhere and Titan, the Avengers were all over the place, and despite their best efforts, Thanos was still able to wipe out half of humanity with a simple snap of his fingers.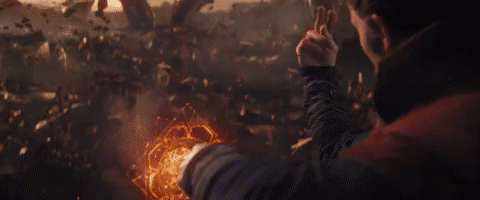 During the commentary on the Infinity War home release, co-director Joe Russo along with IW's writer Stephen McFeely shared just what the time lapse of the whole movie was.
[row]"Nobody gets to rest in this film. They literally get Strange, Tony, Banner and Wong get about two minutes of exposition out before the story comes to them, and now they're in motion. Inciting incidents happened and the characters are in motion. And you'll watch each sequence, as we introduce characters, each one has his own inciting incident that sets them off on the path towards Thanos," Russo said.[/row]
[row]"I'm not sure exactly what the amount of elapsed time in this movie is. It can't be more than, maybe, two days," McFeely added.[/row]
[row]"Yeah, at most," replied Russo.[/row]
Of course, despite so much happening in the first installment, the story was really just getting started as now the remaining heroes need to figure out how to save their fallen comrades and the rest of humanity, which surely won't be an easy task. They probably need to do so quickly too as Aunt May is probably freaking out wondering where Peter Parker is.
During the commentary the duo, in addition to co-director Anthony Russo, also discussed some insight on the heart-breaking death scene for Spider-man, revealing that it was Robert Downey Jr. who coached Holland into adding more fear and emotion into the moment.
[row]"At the end of the day, he kept driving: put more and more emotion into it, and just went up to Tom and said, 'You don't want to go because you're a child. And you're using your strength as Spider-Man to fight this, and then that was the performance that came out." [/row]
How many days did you think Infinity War spanned over?
Avengers: Infinity War is available digitally now and will be available on DVD and Blu-ray on Aug. 14.
Having studied Media & Writing at James Madison University, I always knew that I wanted to do some type of creative writing, but being able to write about zombies, Starks, and superheroes on a daily basis for Fan Fest is my actual dream. While I probably shouldn't be as proud as I am to be so similar to Nick Miller, I do hope to one day write my own "Pepperwood Chronicles'.