'Arrow': Stephen Amell on Latest Twist, Olicity, and Oliver's Destiny!
Published on October 24th, 2017 | Updated on October 24th, 2017 | By FanFest
If there is one things that we are guaranteed every season of Arrow, it is that there is always a gigantic twist at some point in the season. This year, that twist came at the conclusion of the second episode when Oliver passed the torch of being the Green Arrow onto his best friend – John Diggle.
Hey @david_ramsey —

You're up.

— Stephen Amell (@StephenAmell) October 20, 2017
While some fans say that this is an insane move, especially given that Diggle has a family of his own, other fans across social media are highly looking forward to seeing what John will bring to team as their new leader in Green. What is particularly cool about this 'costume change' is that it can be said to foreshadow the events that occurred in the DC's Legends of Tomorrow episode, 'Star City 2046' in which John Diggle's son wore the infamous Green Arrow Costume.
So does this mean that Oliver's days as The Green Arrow are over? Well, it would appear that it won't be for some time. In a recent interview with EW, series star Stephen Amell stated that Oliver will not be coming back to lead Team Arrow anytime soon.
So wait, will Oliver NEVER suit up as The Green Arrow ever again?
"No. Look, I remember one season of 24 when Jack Bauer had been taken prisoner, Jack was in China. They're like, 'Well, how long of this season is Jack going to be in China for?' and the producers were like, 'He's landing like six minutes after it starts. The show is the show.' Our show's the show, but that doesn't mean that we can't surprise people. If he suits back up again, it doesn't mean that all of a sudden it goes back to the status quo."
This is not the first time that we have seen Oliver operate without being The Green Arrow. In Season One, John Diggle took on the mantle so that Oliver would be cleared from being sent to prison. In Season 3, The Arrow 'died' and Oliver faced off against Ra's Al Ghul in his league of Assassin getup. It wasn't until Season 4 when Oliver once again donned any sort of costume, then calling himself 'The Green Arrow'.
When asked about the transition of the Green Arrow title from Oliver to Diggle, Amell was extremely moved:
"I give it to Diggle; I don't give it to him with a heavy heart, I give it to him with a full heart. I give it to him expecting him to be able to handle it. I like the idea that I give it to him because the city needs a Green Arrow, right? The Green Arrow can be more than one person. The Green Arrow is a symbol and his team is a symbol. The fact that we are pushing Star City in the right direction is something that is important to me because I don't want the city to get destroyed every year, because then what's the point of what we're doing? We're a team of vigilantes that are the definition of insanity, because we're just doing things over and over again and hoping for a different result. Obviously I don't know what's going on with Diggle, but I give it up and there's not a lot of angst."
Now, when it comes to the great debate of 'Olicity', Stephen Amell is extremely enthusiastic. He is an absolute supporter of the couple, and has high hopes that they will soon be reunited. In his eyes, it is more so a matter of 'what is the right time' as opposed to 'will it ever happen':
"We had a nice moment between them in the premiere that set the table — they pushed the pause button because Oliver's relationship with William was more important, and the immediate aftermath of Samantha's death was obviously very traumatic for him, so it's Oliver's responsibility to make sure that William getting comfortable with Oliver was the most important thing. But there are flickers. They're obviously in love with one another, but they just haven't pulled the trigger on the full-fledged back-together let's-go-for-it."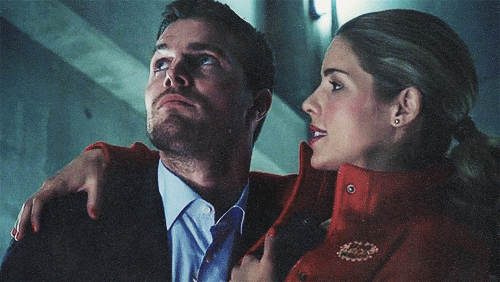 Arrow will return on Thursday, October 26th at 9PM/EST on The CW.
Related Articles:
'Arrow': Welcome Back, Mama Smoak!
'Arrow' gets new Opening Introduction
Julia recently published her first novel, titled; Anomic. She is currently co-authoring a novel called 'Snow Falls'. She has a B.A in Communications with concentrations in Professional Writing and Public Relations. She is also in the United States Army Reserves as a Military Police Officer, and is currently in the process of going back to school for her Masters Degree in Business. When she isn't writing, she is co-owner of a film production studio called 'Valentine Productions LLC' and she frequently spends her weekends acting in films, or being a stuntwoman.