Early Twitter Reviews Are Raving About 'Ant-Man and The Wasp'
Published on June 25th, 2018 | Updated on June 26th, 2018 | By FanFest
Ant-Man and the Wasp had a lot of pressure on its shoulders leading up to its July 6 release. As the first film to come out after the extremely heavy Avengers: Infinity War, fans will be looking for a movie to lift their spirits, and it looks like the Paul Rudd/Evangeline Lilly sequel is more than happy to step in!
The film recently had its first screening for critics this past weekend and the *spoiler free* reviews that are slowly making their way onto Twitter are a total delight. They're praising the film's humor, plot, and cast, calling it "charming" "inventive" and "thrilling". Specifically, performances by Evangeline Lilly as Hope/The Wasp and Michael Peña's Luis are receiving a lot of shout-outs.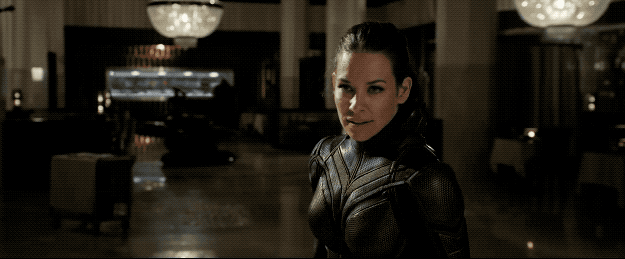 In addition, there apparently is a post-credit scene that completely wowed audiences.
#AntManAndTheWasp is cool and all, but the end credit scene is the best part of the whole film and the only thing I can think about right now.

— Kylie Erica Mar (@KylieEricaMar) June 23, 2018
And in case you're wondering if the film addresses Scott and Hope's absence in Infinity War…
Just saw #AntManandtheWasp. Does it answer the "#InfinityWar question"? YES.

— David Daniel (@CNNLADavid) June 23, 2018
Marvel Studios President Kevin Feige has told fans that "Ant-Man and The Wasp also directly connects to Avengers 4. These characters are going to be very important going forward."
Check out the reviews below then go and pre-order your ticket to Ant-Man and the Wasp ASAP!
What a year for Marvel! Absolutely loved #AntManAndTheWasp. Stellar ensemble and the humor is spot on. (Laughed myself to tears during one sequence!) The tech is used to great effect yet again. Unique, highly entertaining ride I can't wait to go on again.

— Perri Nemiroff (@PNemiroff) June 23, 2018
#AntManAndTheWasp has everything Marvel fans are hoping for. Amazing tech, hilarious quips, Ant-Man enters the Quantum Realm and eats Bucky's ass, and some twists and turns that'll leave those left heartbroken by the events of INFINITY WAR with something to look forward to 😉

— ben mekler (@benmekler) June 23, 2018
Had a blast watching #AntManandtheWasp. It's super funny, which is its greatest charm. Very personal, small scale story (again) and definitely focused on being light and family friendly. Evangeline Lilly is a badass, and Scott's daughter Cassie steals the show. Also, ants 🐜 pic.twitter.com/PMAZf94gGa

— Terri Schwartz (@Terri_Schwartz) June 23, 2018
Ant-Man and The Wasp was a fantastic sequel. So much fun, so entertaining from start to finish. The Wasp is awesome & Evangeline Lilly is great! Overall, CAN'T wait to see it again!#AntManandtheWasp pic.twitter.com/qxcoyNGjg5

— The Reel Talk (@TheReelTalkk) June 23, 2018
Dug the heck out of #AntManAndTheWasp. Clever and charming with lots of heart. It's a bit exposition heavy, but otherwise a damn delight. One gag had me laughing so hard I was in tears and the post-credits scene is easily one of Marvel's best.

— Haleigh Foutch (@HaleighFoutch) June 23, 2018
WOW! #AntManAndTheWasp is a total delight! Funny, inventive, smart and full of great, irresistible energy! The cast is perfect, especially @EvangelineLilly , and the new characters fit in seamlessly. It's got huge stakes, but never loses its smirk or the BIG heart at its center.

— John Steven Rocha (@TheRochaSays) June 23, 2018
Ant Man and The Wasp is good old fashion fun. A nice change of pace from the other Marvel films earlier and is entertaining from beginning to end. Paul Rudd is hilarious and Evangeline Lilly was so bad ass. #AntManAndTheWasp pic.twitter.com/OjNkfzWZ3W

— Scott Menzel (@TheOtherScottM) June 23, 2018
I loved #AntManAndTheWasp. I don't think I've ever laughed so much in a Marvel movie, though Ragnarok is up there. Nice change of pace from Infinity War. The emsemble is perfect!

— Joseph Deckelmeier (@ThatHashtagJoe) June 23, 2018
#AntManAndTheWasp hits everything it needs to. They nailed the comedy and characters were written perfectly. Nice change of pace from Infinity War. Really enjoyed it.

— That Hashtag Show @ AX (@ThatHashtagShow) June 23, 2018
Loved #AntManandTheWasp⁠ ⁠! It was an awesome action-packed thrill ride filled with a lot of humor and heart. Paul Rudd was fantastic as usual. Evangeline Lilly was phenomenal as The Wasp and Hannah John-Kamen was a badass villain! pic.twitter.com/gEJkd3sdAp

— Geeks of Color (@GeeksOfColor) June 23, 2018
Ant-Man is my favorite Marvel movie. This is the sequel I'd been hoping for. I was grinning from ear to ear from start to finish. Irresistibly good fun. As exciting as it is funny, it locks along nicely and it's visually stunning! #antmanandthewasp pic.twitter.com/7tLSv84ujb

— Simon Thompson (@ShowbizSimon) June 23, 2018
Director Peyton Reed seems to have another hit on his hands with a story that finds "Dr. Hank Pym (Michael Douglas) are determined to rescue Hope's mother, original Wasp Janet van Dyne (Michelle Pfeiffer), who's been trapped in the Quantum Realm. During this tumultuous time, Hannah John-Kamen's "Ghost" steals Pym technology, granting her the ability to phase through solid objects."
A tiny take: #AntManAndTheWasp was a total blast. Romantic, energetic and a lot of fun. @MrPeytonReed left unchained and left to his own devices is glorious and totally bonkers and brilliant. pic.twitter.com/QZ8okR76eG

— Drew Taylor (@DrewTailored) June 23, 2018
In addition to Rudd, Lilly, Pena, Douglas, Pfeiffer, and John-Kamen the film also stars Walton Goggins, Bobby Cannavale, Judy Greer, and Laurence Fishburne. Ant-Man and the Wasp hits theaters July 6!
Having studied Media & Writing at James Madison University, I always knew that I wanted to do some type of creative writing, but being able to write about zombies, Starks, and superheroes on a daily basis for Fan Fest is my actual dream. While I probably shouldn't be as proud as I am to be so similar to Nick Miller, I do hope to one day write my own "Pepperwood Chronicles'.