'Ant-Man and the Wasp' Almost Had a Captain America Cameo
Published on July 26th, 2018 | Updated on July 26th, 2018 | By FanFest
We are currently in the midst of Phase Three of the Marvel Cinematic Universe and while every movie that's come out has been a winner, a majority of the films have been heavily focused on crossovers. Thor: Ragnarok found Hulk and Thor teaming up together, Spider-Man: Homecoming found Tony Stark mentoring Peter Parker, and of course, there were the monster team-ups in both Captain America: Civil War and Infinity War.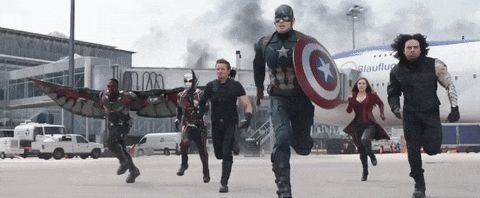 When it came to Ant-Man and the Wasp, director Peyton Reed always knew that he wanted it to be a stand-alone film with no crossovers, but at one point in the early stages, Steve Rogers (Chris Evans) himself was supposed to make a brief cameo through one of Luis' (Michael Pena) iconic stories.
[row]"Early on, we had a version where we were going to do a quick version of the tarmac fight from Civil War, with some ridiculous thing where, you know, Captain America has Ant-Man as a baseball and throws him, because the whole thing is Luis' version of events, right? We came up with all these ridiculous visuals," Reed told Radio Times.[/row]
For those of you who need a refresh as to how spectacular Luis' stories are, please direct your attention to the clip below from 2015's Ant-Man. Luis still was able to tell a story in Ant-Man and the Wasp and it was just as hilarious.
https://www.youtube.com/watch?v=sykacDdWQj4
I, for one, would have loved to see Captain America chucking Ant-Man like a baseball, but can understand and appreciate Reed's decision to leave the cameo out, especially since the film was the first to come out after Infinity War.
[row]"The idea was that this really wanted to be a little bit more standalone and in its own world. We knew that we wanted to continue the story of these characters and then introduce our won characters that were really far more relevant to the story we were telling…Plus the fact that we were coming right after Infinity War, which is really like everyone. With the exception of Ant-Man and the Wasp and, of course, Hawkeye."[/row]
What do you think about Reed's decision to cut the Cap? Let us know!
Starring Paul Rudd, Evangeline Lilly, Michael Pena, Michael Douglas, Michelle Pfieffer, Walton Goggins and Hannah John Kamen, Ant-Man and the Wasp follows Scott Lang as he struggles to balance being both a superhero and a father. Meanwhile, Hope van Dyne and Dr. Hank Pym present an urgent new mission that finds the Ant-Man and The Wasp fighting to uncover secrets from their past.
Ant-Man and the Wasp is currently playing in theaters!
Having studied Media & Writing at James Madison University, I always knew that I wanted to do some type of creative writing, but being able to write about zombies, Starks, and superheroes on a daily basis for Fan Fest is my actual dream. While I probably shouldn't be as proud as I am to be so similar to Nick Miller, I do hope to one day write my own "Pepperwood Chronicles'.