Andrew Lincoln Had Originally Planned to Leave 'The Walking Dead' Last Season
Published on September 28th, 2018 | Updated on September 28th, 2018 | By FanFest
We are just over a week away from starting Rick Grimes' final season of The Walking Dead and while news of Andrew Lincoln's departure certainly rocked the core of the fandom, it turns out that it could have come a lot sooner – like, season 8. On top of that, Lincoln began carving out his departure plan with Scott Gimple way back in season 4, according to EW.
[row]"I had a conversation during season 4 with Scott Gimple about this. You know, we shared young families and there was a lot of synchronicity between the two of us that were two heads of a show that seemed to be getting bigger and bigger," he said. "We spoke about it and said, 'There's got to be a shape. We need a shape to work out if we get to season 5 then maybe we've got a couple more.' There were all these ifs and buts and strategies. And I said, eight sounds like a good number.' Eight seasons was certainly something. Last season was a shape that I had in my head and it was certainly something that Scott was possibly thinking about as well that was a completion of a certain chapter which could be called Rick's falling."[/row]
Of course, saying you'll leave after eight seasons is a lot easier said than done, especially when Lincoln not only became even more attached to the character, but the story was moving at a different pace.
[row]"Season 8 came and it got more complicated. I realized that rather than have the funeral, I had to prepare for the funeral and I had to make sure everybody was comfortable with the funeral arrangements. And I don't think I was ready for the funeral! You know what I mean? I was like, I don't think I'm ready to go yet!"[/row]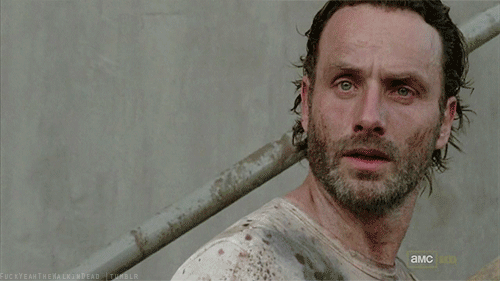 So, when did he decide to continue on to season 9? Well, surrounded by his cast and fans at that year's San Diego Comic Con.
[row]"It was at Comic-Con that year that I made the decision that I couldn't leave that year. I said to my wife, 'I feel overwhelmed. I don't think I'm ready. I can't do it. I've got Norman, I've got Danai, I've got Jeffrey, I've got Melissa McBride, I've got Greg Nicotero — all these beautiful friends of mine and I don't know if I can do it yet. I don't know if it's time. So that happened."[/row]
Heading into the ninth season, fans have had plenty of time to prepare for Lincoln's departure, but it also appears that the time away from the set has had Lincoln itching for more. It was just confirmed that the actor will be returning to Georgia to learn the ropes for directing so that he can hopefully return one day to direct an episode himself.
[row]"I'm going back. I'm going back to shadow a director, and my intention is to direct next year," he told EW.[/row]
If there's one thing that fans of The Walking Dead know, it's that no one loves The Walking Dead more than Andrew Lincoln. While it's sad to see him leave, we only want what's best for him and are so thankful that he devoted nearly a decade of his life to this show and this character. We can't wait to see the final leg of his journey and hopefully have him behind the camera sometime in the future!
Having studied Media & Writing at James Madison University, I always knew that I wanted to do some type of creative writing, but being able to write about zombies, Starks, and superheroes on a daily basis for Fan Fest is my actual dream. While I probably shouldn't be as proud as I am to be so similar to Nick Miller, I do hope to one day write my own "Pepperwood Chronicles'.