A 'True Blood' Star Crossed the Supernatural Pond to the 'Walking Dead'
Published on March 20th, 2019 | Updated on March 25th, 2019 | By FanFest
No, vampires did not actually make their way onto The Walking Dead, but going into this past Sunday's episode we had a feeling that things weren't going to pleasant. Titled "Scars" it was evident that the series would be flashing back to the time when Daryl and Michonne received those 'X' scars on their back. Well, we finally got our answer and I don't think that anyone could have predicted just how disturbing the events would be.
As hard as it was for audiences to watch Michonne have to kill some crazy kids, things started off much more pleasant when a surprisingly enjoyable guest star was thrown into the mix. Rutina Wesley appeared in the episode as Joscelyne, Michonnes' long lost college best friend who shows up at the gates of Alexandria. If you're like me you instantly perked up when you saw her, bringing you back to the glory days of 2008 Bon Temps, Louisiana.
For those who aren't quite following, Wesley is well-known for her role on another semi-horror series. She played the cynical and extremely intelligent Tara Thorton on HBO's vampire drama True Blood throughout the show's seven-season run.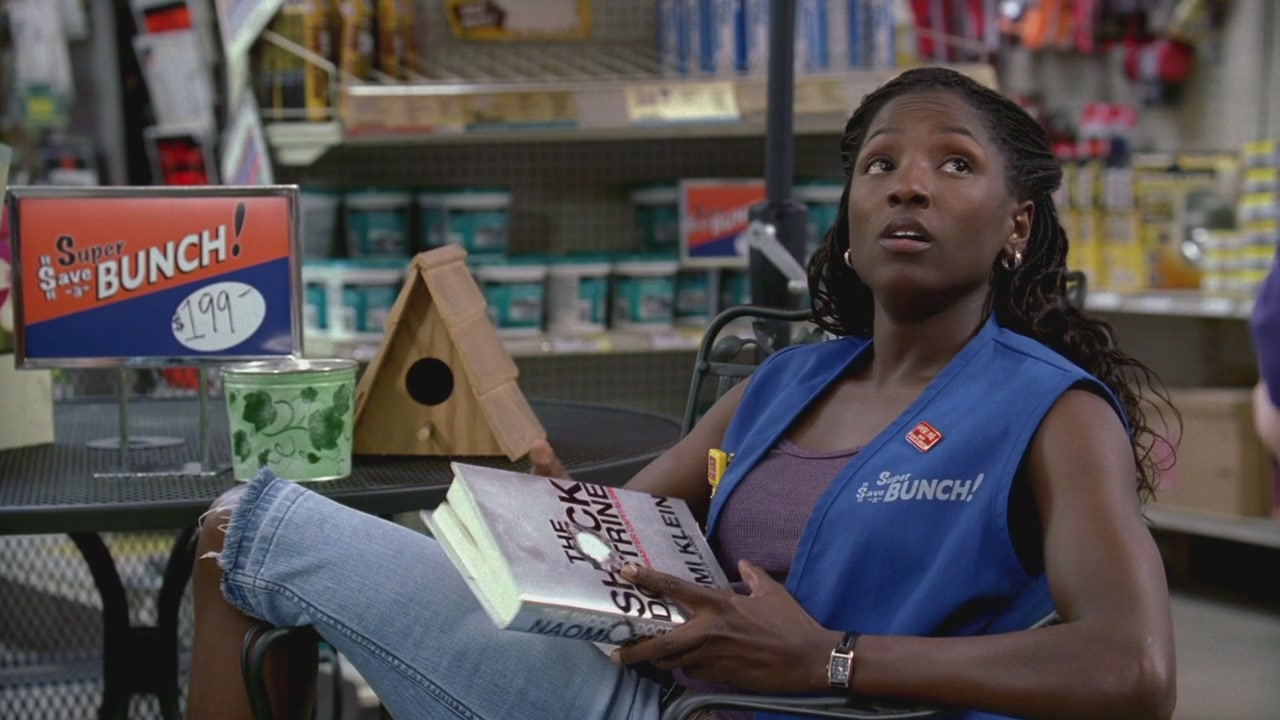 She was a strong lil' spitfire with a sharp tongue and it made for some iconic lines. So, it was a nice surprise to see her pop up on The Walking Dead and I was clearly not alone.
It's Tara!! (She'll always be Tara from True Blood) Rutina Wesley! This is going to be interesting! #TWD #TheWalkingDead

— Horrorfan4Life (@latitia_jackson) March 18, 2019
OH that's Tara from a True Blood! Blast from the past! #TheWalkingDead

— eric gray ⋈ (@Hellathen) March 18, 2019
the fact that jocelyn is tara from true blood has me freaking out! this woman is such an AMAZING actress, i love her so much omg @rutinaofficial 💕#TheWalkingDead #TWD pic.twitter.com/FqlXBa1cDW

— summer (@dxzeddixon) March 18, 2019
I have no idea what happened between Michonne and Lydia because I was too busy ASDFGHJKLing over Tara from True Blood being on here #twd #TheWalkingDead

— Killer Queen (@BezddDakota) March 18, 2019
Of course, the second she showed up on screen in this episode you had to know that it wasn't going to end well. While Michonne wasted no time opening up her gates and her heart to Jocelyn and the kids she'd "adopted", Jocelyn wasted no time stealing food and medicine from Alexandria. Oh, and a bunch of Alexandrian youngsters like Judith and Gracie. Betrayed and suuuuper pregnant, Michonne set off to find the kids with the help of Daryl, where they were met with a Children of the Corn scenario.
Jocelyn should have known better than to mess with Michonne though. You can brand a pregnant Michonne, send an evil kid army to a pregnant Michonne, and you can beat a pregnant Michonne with a plank of wood – you are not going to win. And she didn't. To be honest, no one really won.
Twitter also had a little bit of fun with the fact that Wesley's character died both on True Blood and The Walking Dead. Funny enough, both times she gets to come back…once as a vampire and once, presumably as a walker.
Why did Rutina Wesley @rutinaofficial get a better death scene on #TheWalkingDead after one episode than she did on #trueblood after 6 years! #gtfo #TalkingDead

— Bilan (@bsgper4) March 18, 2019
This evil child storyline would have been so much better, IF, Tara had just turned all the lil demons into kiddy vampires! #twd #THEWALKINGDEAD #trueblood #rutinawesley pic.twitter.com/hJuJWxLpX6

— lisa_ranae (@LisaRSP) March 18, 2019
Also… Is there a chance that Jocelyn a vampire? #TheWalkingDead #TWD #TWDFamily (#TrueBlood?)

— Gwimo (@EnnuiPrayer) March 18, 2019
Since wrapping on True Blood in 2014, Wesley appeared as Reba McClane on NBC's Hannibal and is currently starring as Nova Bordelon on Oprah Winfrey's Queen Sugar. The series follows the life of three siblings, who move to Louisiana to claim an inheritance from their recently departed father – an 800-acre sugarcane farm.
Were you excited to see Rutina on The Walking Dead? Did you like her character on True Blood? Let us know!
Having studied Media & Writing at James Madison University, I always knew that I wanted to do some type of creative writing, but being able to write about zombies, Starks, and superheroes on a daily basis for Fan Fest is my actual dream. While I probably shouldn't be as proud as I am to be so similar to Nick Miller, I do hope to one day write my own "Pepperwood Chronicles'.