'A Nightmare on Elm Street' Reboot is 'Still Happening'
Published on January 20th, 2019 | Updated on January 20th, 2019 | By FanFest
Almost 35 years later, people are still talking about one of the most iconic slashers of all time – Freddy Krueger.
Robert Englund brought an entirely new feel to the world of horror when he debuted the clawed slasher in the original A Nightmare on Elm Street back in 1984. Following that first film, Englund set the stage for a villain that would continue to maintain a thriving fan base for the next 30+ years. Literally, Freddy is everywhere. If most movie (or Halloween Holiday lovers) were to see that iconic Fedora combined with the green and red sweater – they would instantly know who that was meant to represent. Top that off with the infamous knived-glove and it's unmistakable.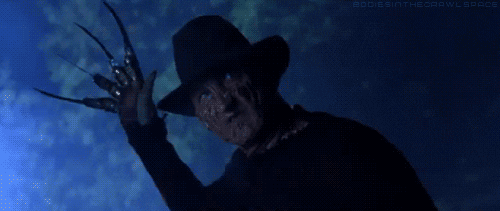 3 years ago, New Line announced another A Nightmare on Elm Street reboot was brewing in the mind of screenwriter David Leslie Johnson-McGoldrick (Aquaman, The Conjuring 2) who retained to pen the script. Since that day, it has been pretty quiet but considering how well the Halloween film did this year – it was enough to get fans talking once more.
Johnson-McGoldrick spoke with Gamespot, saying that even though a Nightmare reboot still technically an active project, it has currently taken the backseat:
"It's still happening. Nothing is percolating just yet. The Conjuring universe is sort of first and foremost on [New Line Cinema's] horror burner. Everybody wants to see Freddy again I think, so I think it's inevitable at some point."
So while horror fans may have to wait just a little bit longer to see Freddy come back on the screens, the news that it is still on the minds of New Line is great news. Sadly, the same still cannot be said for fans of fellow slasher Jason Voorhees – who is still the victim of an ongoing rights battle.
In past panel interviews, Robert Englund has stated that he would love to see Kevin Bacon take on the role of Freddy. Which, I think would be kind of interesting to see. I really did admire the work of Jackie Earle Haley in the 2010 reboot – he had quite big shoes to fill. He was the first person to replace Horror Legend Robert Englund, and he did quite a marvelous job with the role.
So, fellow horror fans, I guess for right now all we can do is sit back and wait for more news to come! BUT at least, something will be coming down the line!
Julia recently published her first novel, titled; Anomic. She is currently co-authoring a novel called 'Snow Falls'. She has a B.A in Communications with concentrations in Professional Writing and Public Relations. She is also in the United States Army Reserves as a Military Police Officer, and is currently in the process of going back to school for her Masters Degree in Business. When she isn't writing, she is co-owner of a film production studio called 'Valentine Productions LLC' and she frequently spends her weekends acting in films, or being a stuntwoman.