5 Reasons Why 'Riverdale' Fans Will Love 'Chilling Adventures of Sabrina'
Published on October 23rd, 2018 | Updated on October 23rd, 2018 | By FanFest
Greetings, Coven! It's almost the bewitching hour as Chilling Adventures of Sabrina drops on Netflix this Friday. So, to get us all into the sinister spirit we are going to be counting down the next week with a daily dose of Sabrina content. Since Chilling Adventures of Sabrina is a sister show and spinoff of The CW's Riverdale, we thought that it would be fun to let all of you Archie fans know a few reasons why you'll love Sabrina just as much!
1. The young cast is awesome
Much like Riverdale, Netflix's Chilling Adventures of Sabrina has rounded up an insanely talented (and of course, good-looking) young cast. Led by Kiernan Shipka as Sabrina Spellman, the series features a multitude of interesting characters orbiting around her. From her mortal friends including Harvey (Ross Lynch), Ros (Jaz Sinclair) and Susie (Lachlan Watson) to her supernatural schoolmates including The Weird Sisters (Gabrielle Tati, Abigail Cowen, Adeline Rudolph) and Nicholas Scratch (Gavin Leatherwood) there is certainly no shortage of drama or compelling pair-ups. They all bring something fascinating to the table and throughout the season, various matchups and character developments will have you falling in love with all the characters much like with Archie and the gang.
2. It has a perfect small and creepy town vibe
Chilling Adventures of Sabrina takes place on the other side of Sweetwater River in Greendale, the neighboring town of Riverdale. In fact, the CW school and town are both mentioned and acknowledged on the series. Taking over the local hangout of Pops is Cerberus Books, – albeit a much spookier hotspot.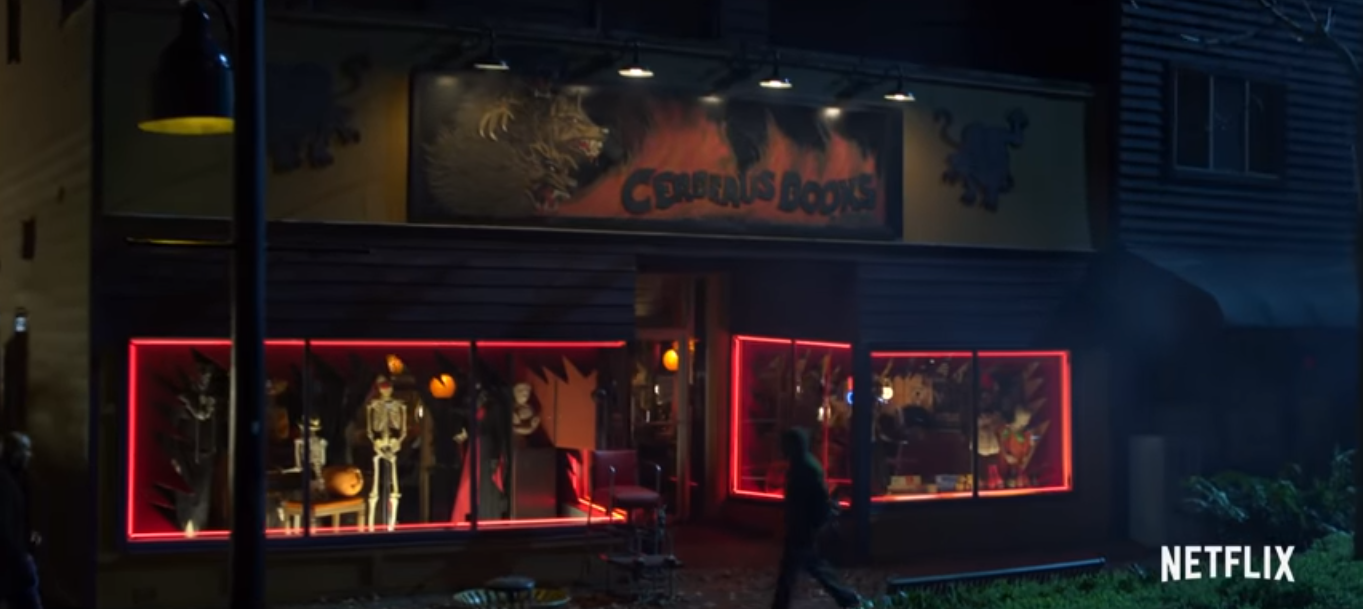 Similar to Riverdale, the town is beautifully shot and the cinematography is on a whole different level. Greendale is full of secrets and supernatural lore, quickly becoming a character in itself over time. From the local movie theater to Baxter high to the Spellman Mortuary, it won't take long to completely fall in love with Riverdale's sister-town of Greendale.
3. It plays with time
One of the more intriguing things about Riverdale is that it's nearly impossible to figure out just when it takes place. At times it feels like it could be taking place in the present day, but then Archie & Co. are driving to the local swimming hole in this thing:
Sabrina follows a very similar vibe, and just like Riverdale, it's extremely refreshing. The clothes are awesome, the props and settings are super cool and it's hard pressed to find any sort of phone or laptop. So, if you like that about Riverdale, you'll be pleased to know Sabrina is much in the same vein.
4. It has the perfect amount of romance
Sabrina has romance, but it is so much tamer than Riverdale. While Riverdale quickly became consumed with love triangles, couples, and sex, Sabrina's main priority is its story of whether she will choose to walk on the mortal or supernatural path of life. Of course, there are handsome men on both sides, but in the story of Sabrina, she already has her soulmate in Harvey Kinkle. The iconic comic couple is together when the series starts, but with a handsome warlock named Nicholas Scratch taking an interest in Sabrina at the Academy of the Dark Arts, romantic highs and lows are certainly on the horizon.
5. TBH, it's just better
If you're a fan of Riverdale but often have trouble really enjoying the show's extra and crazy storylines, then you'll be pleased to know that Sabrina tends to steer clear of all that…mostly. While the show does have it's campy moments, it leans into them seriously. The writing is sharp, witty and committed to serving the plot in a much slower-paced way. Each episode connects and acknowledges the developments made previously, whereas Riverdale can often feel like anything that happens in each episode could possibly never be spoken of again.
Overall, Sabrina is a lot more serious and while it focuses on high school drama, it's the Spellman family that is the heart of the show and that's for the best. While Archie is technically the lead of Riverdale, he sometimes feels overshadowed by the other cast and stories. On Sabrina, Sabrina is the star and the story remains hers.
Chilling Adventures of Sabrina drops on Netflix THIS Friday, October 26th! Be sure to head back to Fan Fest all this week for more "Countdown to Sabrina" Coverage!
Having studied Media & Writing at James Madison University, I always knew that I wanted to do some type of creative writing, but being able to write about zombies, Starks, and superheroes on a daily basis for Fan Fest is my actual dream. While I probably shouldn't be as proud as I am to be so similar to Nick Miller, I do hope to one day write my own "Pepperwood Chronicles'.