21 Reasons Why You Should Be Celebrating Galentine's Day This Year
Published on February 13th, 2019 | Updated on February 13th, 2019 | By FanFest
~As Told By the Brilliant and Beautiful Butterfly, Leslie Knope~
1. So you may be wondering:

2. The short answer:

3. But really, it was a holiday coined by Leslie Knope on Parks and Recreation to celebrate the lovely ladies in your life who are always there for you! It takes place on February 13th.

4. You just gather 'round your best gal pals and head to brunch:

5. Because:

6. Which means…mimosas!

7. Anyone can be included in Galentine's day – moms, co-workers, your hair stylist, your favorite barista – anyone!

8. Especially that friend you never get to see:

9. It's about reconnecting:

10. And LOLing over all of your crazy antics over the years:

11. It keeps you from having to see all of the social media PDA:

12. You get to girl talk and vent about anything and everything:

13. Plus, you get to give your friends all sort of special gifts:

14. And because they're your favorite people you know exactly what to get them, so everyone's happy:

15. You get to sit around and just support each other and lift each other up:



16. Dancing is always encouraged:

17. Maybe a little karaoke depending on where the day takes you:


18. It's all about girl power:

19. And remembering the important things in life:

20. And knowing that these ladies will always hold a special place in your heart:
21. But most importantly, Galentine's Day is all about:
The Laughs- The Hugs-
The classic rhymes-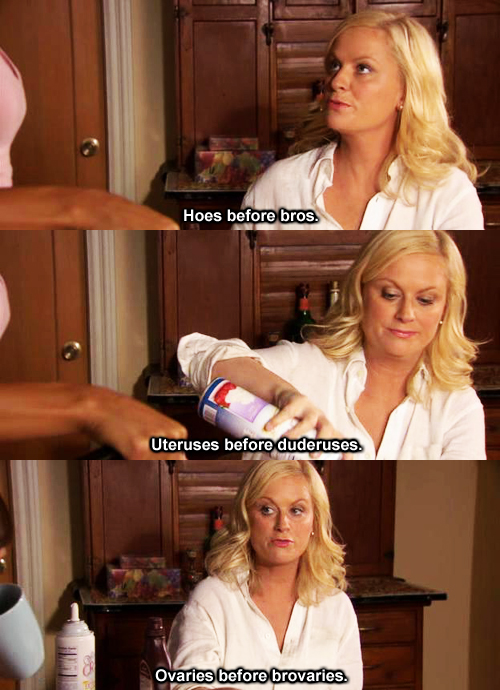 And again…the mimosas
TLDR:
Having studied Media & Writing at James Madison University, I always knew that I wanted to do some type of creative writing, but being able to write about zombies, Starks, and superheroes on a daily basis for Fan Fest is my actual dream. While I probably shouldn't be as proud as I am to be so similar to Nick Miller, I do hope to one day write my own "Pepperwood Chronicles'.