Disney is happily walking on Pride Rock after releasing the first teaser for their upcoming "live-action" Lion King film. After its Thanksgiving day reveal, The Lion King teaser earned an impressive 224.6 million views online within the first 24 hours, making it the most viewed trailer ever in a single day for the House of Mouse.
The record-breaking numbers are even better news for Disney as it also became the second most viewed trailer in a single day from any studio. The number one slot technically goes to Disney as well thanks to Marvel's 2017 Avengers: Infinity War trailer, which earned 238 million views within the first 24 hours. Marvel Studios falls under the Disney Corporation umbrella. Prior to that, the horror film It had held the top prize having earned 197 million single day views after its release.
While the numbers are huge, they really aren't that surprising. The Lion King is one of Disney's most prized and popular films and with a fan base spanning and growing over the past 20 years, it makes complete sense that everyone was flocking online to see the iconic movie reimagined. To read some of the best reactions to The Lion King's trailer head here!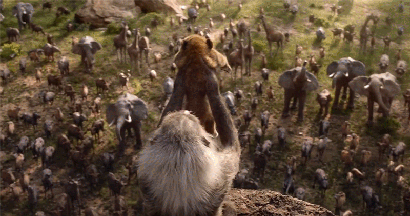 The Lion King stars Donald Glover, Seth Rogen, Billy Eichner John Oliver, Keegan-Michael Key, Chiwetel Ejiofor, Beyoncé, James Earl Jones and is directed by Jon Favreau. It heads into theaters next July!