Disney
In just over a month, Mary Poppins and all her whimsical glory will be returning to theaters to take us all on a magical kite ride once more. With Emily Blunt taking on the lead role, a talented supporting cast, and a nostalgic and visually stunning trailer, Mary Poppins Returns is shaping up to be the perfect holiday film.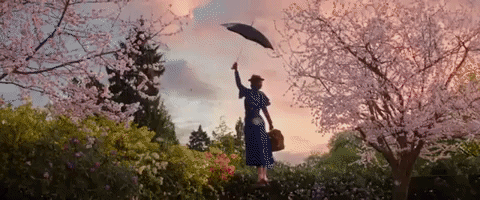 Today, Disney unveiled some vibrant character posters, introducing us to the star-studded cast and the new and classic characters they'll be playing! Let's take a look.
Emily Blunt as Mary Poppins, the enigmatic nanny who uses her unique magical skills to help the Banks family rediscover the joy and wonder missing in their lives:
Lin-Manuel Miranda as Jack, a lamp-lighter who helps Mary to bring light and life back to the people and streets of London:
Meryl Streep as Mary Poppins' cousin Topsy:
Colin Firth as William Weatherall Wilkins, Michael Banks' boss at the Fidelity Fiduciary Bank:
And Julie Walters as Ellen, the Banks' housekeeper:
Disney also released an all-new sneak peek of the movie that previews Miranda (Hamilton) performing one of the film's original songs. Check that out below!
Mary Poppins Returns hits theaters on December 19th!
Tags :
Colin Firth
Disney
Emily Blunt
Julie Walters
Lin Manuel-Miranda
mary poppins returns
Meryl Streep