NBC
If you're like me and are constantly watching The Office on a loop, then you probably always chuckle a bit when you get back around to season 1 and see just how young everyone was. They were actual babies.
Granted, season 1 wasn't the strongest string of episodes for the beloved sitcom but it did introduce us to fantastic characters and the up and coming actors who played them. Well, recently Jenna Fisher who played the adorable Pam Beesly Halpert on the series shared a #tbt photo from the first table read for the series and it is a beauty. See for yourselves!
From left to right the photo features David Denman who played Roy, BJ Novak who played Ryan, John Krasinski who played Jim, Fisher, Rainn Wilson who played Dwight, Steve Carell who played Michael and Phyllis Smith who played Phyllis. Pretty much all of The Office fans were freaking out in the comments because of how adorable the shot is.
The series, which ran on NBC for nine seasons, paved the way for docu-series comedies. The workplace sitcom followed a group of eccentric employees working at Dunder Mifflin Paper Company under a clueless boss named Michael Scott. The antics were fabulous, and the heartwarming and cringe-inducing moments abundant.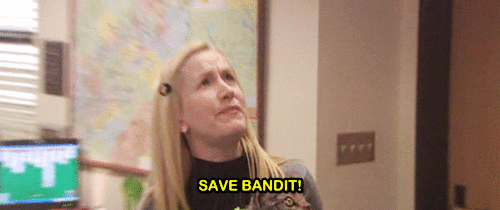 Since then the cast has remained exceptionally close with Angela and Oscar recently recreating their iconic "SAVE BANDIT" scene and Pam's ban from Chili's was lifted mid-last year. Krasinski even told Entertainment Weekly in July that he would be up for a reboot at some point.
"I think we should reboot it. I think it's hard obviously with everybody's schedule to do an Office reboot, but I would so be down. It wasn't just a show for us. It was a family…So all that to say [that] doing a reboot for us wouldn't just be about bringing the show back, it would be about getting back together with those people. They're my family, they're my first and only original business Hollywood-y family, so I'd be lucky to do it."
Fisher, who is currently starring on the ABC comedy Splitting Up Together, recently had a mini-Office reunion herself when her BFF and Dunder Mifflin Account alum Angela Kinsey stopped by to guest star on the show.
https://www.instagram.com/p/Bmy5A-kH20B/?taken-by=msjennafischer
For more great Office content definitely, follow Fisher on Instagram as she's always posting fun stuff related to the series! Now, please excuse us while we go binge The Office for the thousandth time!
Tags :
Angela Kinsey
jenna fisher
john kransinski
NBC
Steve Carell
The Office