THIS IS US -- Season: 2 -- Pictured: Jon Huertas as Miguel -- (Photo by: Maarten de Boer/NBC)
This Is Us is consistently full of twists and turns that send shockwaves through audiences on a weekly basis. The series kicked off with the brilliant reveal in the pilot that that two storylines we had been following were actually different decades of the same family. Fans loved it, but a couple of weeks later when the show revealed that Rebecca was married to Jack's best friend, Miguel, in the present day they were not so happy and had a lot of questions.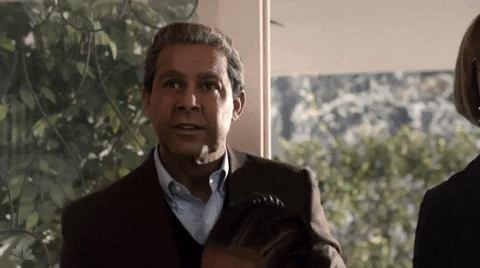 Since that episode, Miguel, played by Jon Huertas, was fighting an uphill battle. Jack Pearson is the patriarch of the show and Miguel marrying Rebecca after Jack's death is something that the audience certainly had trouble forgetting. Throughout season 2, however, the writers started to reveal a more tender and understanding side of Miguel that has made him one of the more likable and intriguing characters, and it looks like we are going to get the opportunity to dive deeper into his story, much like the series provided backstory episodes for Deja and Dr. K.
While speaking with TVLine in their San Diego Comic-Con interview suite, Huertas dropped some hints and teasers about what to expect, including a Miguel-centric episode.
"I know they're going to do that. One of the things we talked about with the writers is that you can't push Miguel down people's throats right now, because Jack and Rebecca, it's everyone's dream to be in a relationship like that where both people are so dedicated to each other, no matter what," Huertas said. "You have to go really slow and really watch your step. I feel like you're walking through a minefield."
So, when can we expect the episode?
"Well, if we're taking our time, I think it will be more towards the end of the season or next season."
Huertas also echoed Dan Fogelman's thoughts earlier this year when he revealed that the show had already started shooting some parts of the series finale.
"We did shoot part of the end of the entire series last season…I was surprised [by what he was shooting], but not blown away "surprised", but I totally understand where the show's going to go and it's something that everybody in the world can and will relate to." 
We are definitely excited to dive deeper into Miguel's story. We want to know more about where his family is in the present day and the early days of his friendship with  Jack when he meets Rebecca! Miguel carries a lot of weight being the "stepfather" of the Pearson family and there are so many layers to peel back when it comes to his character.
To read our interview with Jon Huertas head here! You can check out the whole interview with TVLine below.
This Is Us returns to NBC this September!
Tags :
Dan Fogelman
Jon Huertas
San Diego Comic Con
SDCC
SDCC 2018
This Is Us
this is us season 3