(Photo by: John P. Fleenor/Fox/Universal Television)
Your favorite Brooklyn Nine-Nine slackers are getting their time to shine, co-creator Dan Goor shared during an exciting and extremely passionate San Diego Comic-Con panel. For five seasons, viewers have watched BFF's and national treasures Hitcock and Scully both triumph and fail at the Nine-Nine with meatball subs in hand and now the content we all need and deserve is finally on the way.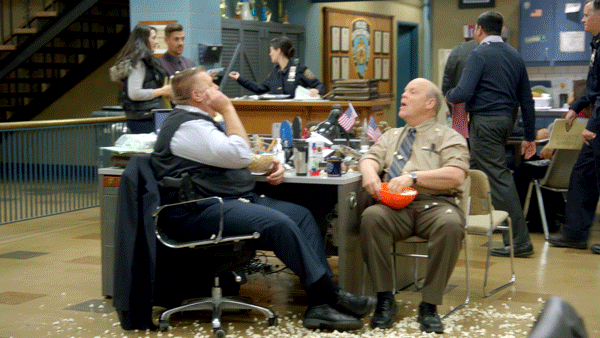 "The writer's room is up. We are five weeks into pre-production, we've got a bunch of scripts and stories…there's a fun Hitchcock and Scully episode coming up. You might see them in their past at some point," Goor shared when asked about the progress for the upcoming season 6.
Goor also said that we will get to find out whether or not Kelly is Scully's dog or wife!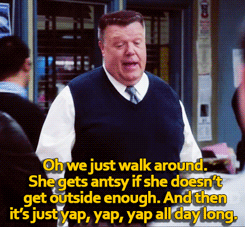 Played by Dirk Blocker and Joel McKinnon Miller, Hitchcock and Scully have managed to be the absolute best at being the absolute worst and the various flashbacks and obscure details about their home lives and pasts only have fans wanting to know more!
In addition to Goor, Miller and Blocker the panel also featured cast members Andy Samberg, Stephanie Beatriz, Terry Crews, Melissa Fumero, Joe Lo Truglio, and Chelsea Peretti. The ballroom was completely packed as fans piled in to celebrate the show's renewal at NBC almost immediately after Fox canceled it.
The cast also talked all about leaving Fox, how they handle mental health storylines, the importance of Rosa's bisexuality story, Terry's love of yogurt, and made all the "title of your sex tape" jokes in the world. The panel was a bundle of joy just like Brooklyn Nine-Nine and as terrified as we are to see what it entails, we can't wait to dive into the wild lives of Hitchcock and Scully!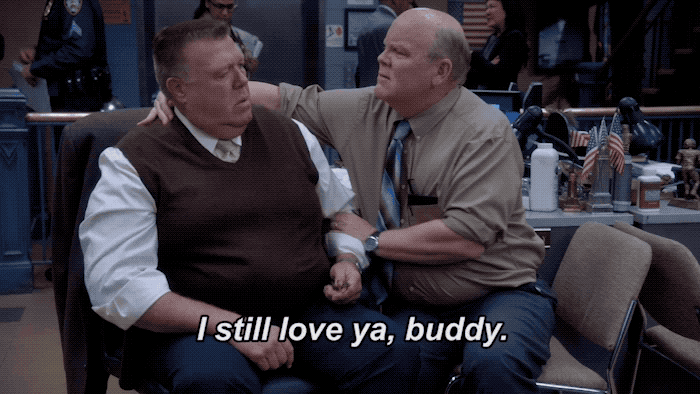 For our full panel recap from Brooklyn Nine-Nine head here! The series will return for a sixth season on NBC in a midseason slot.
Tags :
Andy Samberg
brooklyn nine-nine
Dirk Blocker
Fox
NBC
San Diego Comic Con
SDCC
SDCC 2018