Photo: Eddy Chen/The CW
Good news, Crazy Ex-Girlfriend fans! The series may be heading into its final season, but The CW has granted the musical-dramedy a supersized 18-episode farewell. The past two seasons of the Crazy Ex-Girlfriend each ran for 13 episodes, but EW has confirmed that season 4 has been greenlit for 18 episodes, an order the series hasn't seen since its first season in 2015.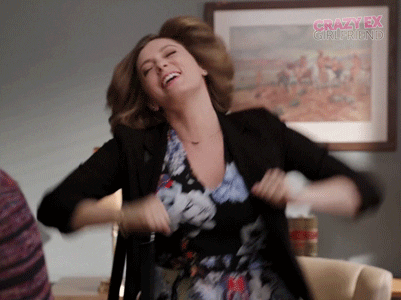 An extended season is probably great for the Crazy Ex-Girlfriend writing team, seeing as season three ended with Rebecca pleading guilty to the murder of her own crazy ex, Trent, and facing a lengthy prison sentence. According to The CW's official synopsis for season 4, her decision will have "Unintended consequences for her West Covina friends. Nathaniel feels betrayed by her, Josh is taken aback by her, and Darryl is parenting her baby. Paula, Heather, and Valencia remain staunchly by Rebecca's side but they are busy finding their own identities (as a law student, regional manager and kickass party planner, respectively.)"
Starring Rachel Bloom, Donna Lynne Champlin, Vincent Rodriguez III, Pete Gardner and Vella Lovell, Crazy Ex-Girlfriend has been well loved by both critics and audiences, earning Rachel Bloom a Golden Globe win after it premiered. The cast will be heading to this year's San Diego Comic-con and will hopefully provide some insight about what fans can expect in the final season.
I'm announcing a one-off #Crazyexgirlfriendlive Show on Friday! It's gonna be in SD during Comic Con! To fight the scalpers/bots, we're trying a new thing called Verified Fan & the unique verified fan registration link for this show will be sent out Friday via my mailing list!

— Rachel Bloom (@Racheldoesstuff) May 9, 2018
Earlier this year, Bloom and some other members of the cast hit the road for an eight-city music tour where they sang some of the series' most popular original songs.
Are you excited to hear about the extended season for Crazy Ex-Girlfriend? The series returns Friday, October 12 at 9 p.m. ET on The CW.
Tags :
crazy ex girlfriend season 4
Crazy Ex-Girlfriend
Rachel Bloom
the cw