This Is Us is winning more than just our hearts these days! Last night at the 24th Annual SAG Awards the NBC series took home 2 Actor Awards including Best Ensemble in a Drama Series and Best Actor in a Drama Series for Sterling K. Brown.
Sterling K. Brown, who was fresh off of his Golden Globe win, made history yet again,  becoming the first African-American to ever win in that category.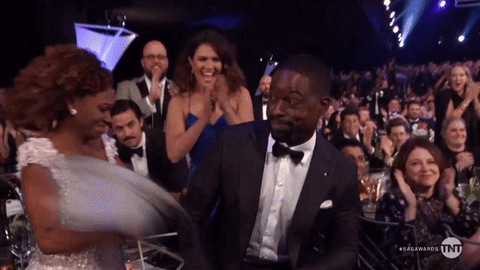 "What a blessing it is to do what you love for a living," he said. "What an honor it is to be recognized by your peers for a job well done. This room is a source of endless inspiration for me…People call us weird and strange. The truth of the matter is, everybody is weird and strange and we just embrace ourselves for who we are."
Moments later This Is Us won the Actor for Outstanding Performance by an Ensemble in a Drama Series, which is probably the most coveted award in the Television categories. The series was up against some stiff competition including The Handmaid's Tale, which completely swept at the Golden Globes, Stranger Things, who took home the award last year, and the consistent frontrunner Game of Thrones. The genuine excitement on the cast's faces as they won was enough to give you goosebumps.
Milo Ventimiglia, who plays the Pearson family patriarch, accepted the award on behalf of the show and in addition to the many thanks they all had to give, he gave a poignant shout out to the fans of the show. "To the people that watch with us every Tuesday night and embrace a show that reflects positivity and hope and inclusion, we love you," he said.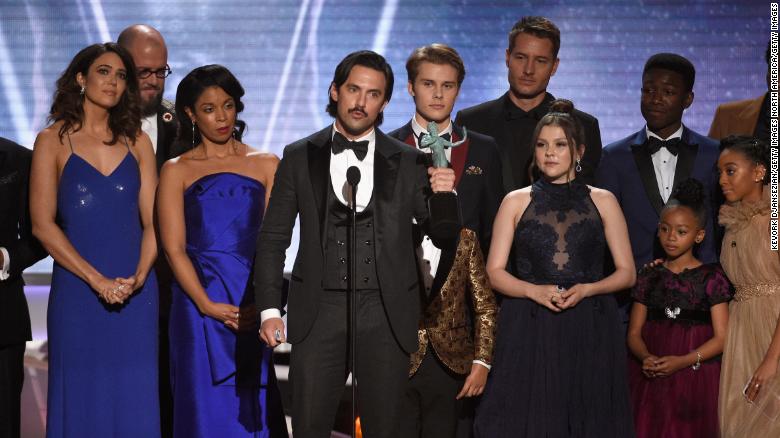 TNT later shared a video clip of Brown backstage in tears as both of the monumental wins caught up to him. "Man, I'm so happy," he said in the clip. "These people, my cast have been so supportive of me … the fact that we get a chance to share in this moment together? I can't stop crying."
Sterling K. Brown can't stop crying and neither can we 😭 What a moment. #sagawardspic.twitter.com/dhXwf4nFBe

— TNT Drama (@tntdrama) January 22, 2018
They also released a video of the cast backstage after the win that's just too cute for words:
Soak it all in, you deserve it @NBCThisisUs! 🙌 #sagawards pic.twitter.com/Id3z6xRr8s

— TNT Drama (@tntdrama) January 22, 2018
This Is Us' best ensemble win also marked a huge milestone for network TV as they were the first network show to win since Greys Anatomy in 2006. Congrats to Sterling K. Brown and the whole cast of This Is Us!
Related:
Read Kristen Bell's Inspiring SAG Awards Opening Monologue
Read Kristen Bell's Inspiring SAG Awards Opening Monologue
Alexander Skarsgard wins his first Individual SAG Award
Julia Louis-Dreyfus Makes SAG Awards History After Winning Best Actress in a Comedy Series
Updating Live! All of the Winners from the 2018 SAG Awards
Kristen Bell is Ready to Take on Tonight's SAG Awards