Image: Facebook
Greetings, everyone! The Holiday's are fast on approach, and we are super excited here! It is really no secret, here at Fan Fest we are all a bunch of nerds. One thing that us 'nerds' love here, is our CWverse Superhero shows! Can you believe we are already in mid-season finale week? It seems like just yesterday that Barry came out of that speed force, or that Dinosaurs were still wandering around Los Angeles…
At any rate, we are super excited! While we have all of these new shows to celebrate, let us not forget the one that started it all- Arrow! We have quite the special treat for all of you Arrow fans out there.
If you're looking to get your fellow Oliver Queen fan friend a special gift for the holidays, (or hey, maybe even a gift for yourself) we now present you with your Arrow Holiday Gift Guide!
Green Arrow Q-Fig
Okay, I'm not going to deny it. This figure is absolutely adorable. If you're looking for a fun little tribute to the Star City archer to keep on your desk, this is a perfect one! Not only does it pay a special homage to the infamous boxing glove arrow, it is the perfect size! Standing at 4 inches tall, it is perfectly transportable and spacious (and did I say cute?). You can currently buy this here, at the comicbook.com shop for $14.95!
'You Have Failed This City' T-Shirt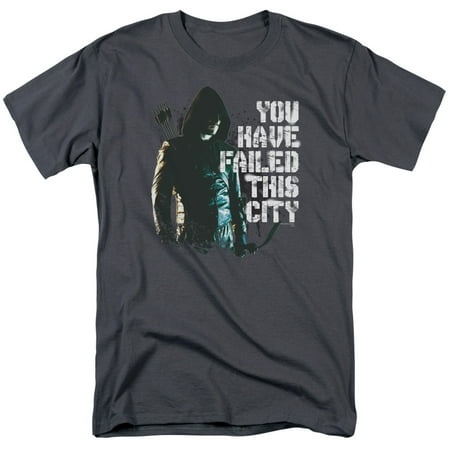 There it is, that infamous tag-line from the hit series! This shirt is extremely comfortable and quite cool. It comes in children's, men's and women's! What better what to show your love for the show other than with a totally amazing shirt. It can be used as your everyday 'nerd' shirt or maybe even your designated comic con wear! The sky is the limit. The shirt is available at Walmart via AllPosters for $15.95!
Coffee Mug
Need a totally cool and a one-of-a-kind coffee mug for work? How about grabbing one featuring the Emerald Archer himself? The cup can also be kind of nostalgic in a way, since it features the Season One version of Oliver. Your friends will be absolutely jealous. Arrow and coffee. What better way to start off a Monday morning? The mug is available for just $14.99 on Amazon!
Button Set
Looking for something cute and simple to stuff your loved ones Christmas stocking? Look no further! These adorable buttons make for the perfect gift. They come in a pack of 4 and they feature Season One and Two designations on the show. The buttons can be purchased at Hot Topic for $6.99.
Arrow Bangle Braclet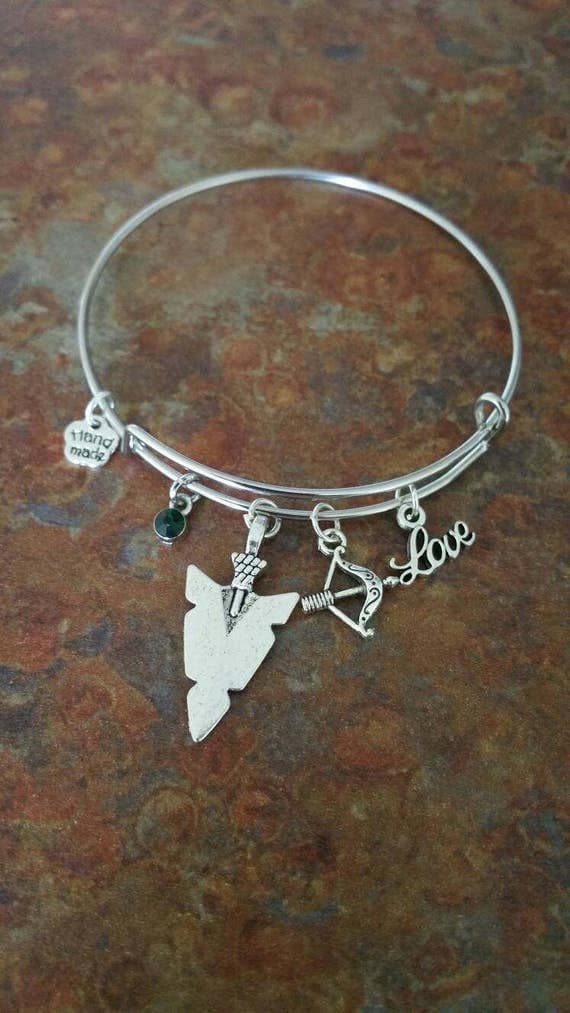 Looking for a gift for her but not entirely sure what to get? If she is a fan of Arrow, this bangle bracelet will make for the perfect gift for her! It is a charming, hand made, made-to-order bangle bracelet. It features 6mm jump rings, pliers, handmade charm, gemstone charm, arrowhead charm, crossbow charm, and a  love charm. She's guaranteed to love it! It can be purchased for $8.00 on Etsy.
Related Articles:
The Ultimate 'Game of Thrones' Christmas Gift Guide
'Gifts of Christmas Present' A Christmas Gift Guide of 2017 Hottest Geek Gifts
'Gifts of Christmas Yet To Come' A Christmas Gift Guide to Futuristic Gifts
'Gifts of Christmas Past' A Look At This Years Retro Gift Guide
Comments
comments
Tags :
arrow
christmas
Christmas Guide
DC
DC TV
DC TV Series
DC TV Shows
Holiday
Holidays
oliver queen
Presents
Star City