The man, the myth, the legend, Jeff Goldblum is officially back as Dr. Ian Malcom in a new behind the scenes teaser for the upcoming Jurassic World sequel Fallen Kingdom.
The 3-minute clip shows the cast and crew talking about the bigger and better mentality that's been put into the film, including Chris Pratt saying that the movie actually involves  "literally blowing up the island."
However, it's the return of Jurassic Park familiar face, Jeff Goldblum that is the absolute best takeaway from the clip. His character Dr. Ian Malcolm hasn't made an appearance in the franchise since 1997's The Lost World: Jurassic Park.
While the clip doesn't really show him action, we see that he's in a courtroom looking as sharp as ever doing what he does best: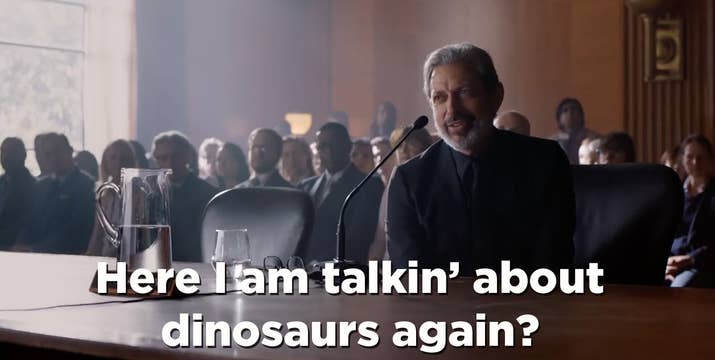 Even Chris Pratt was fangirling.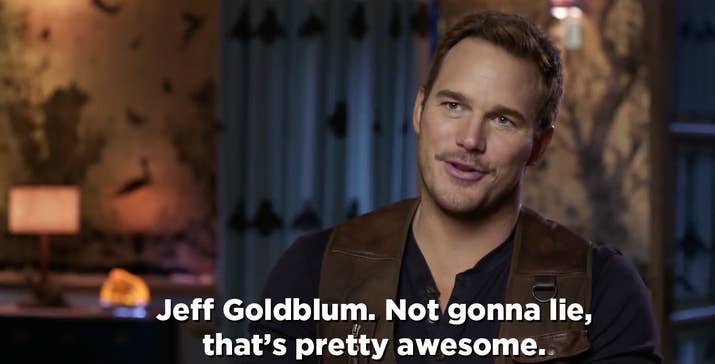 The film's director J.A. Bayona also understands just how totally legendary Goldblum being in the movie actually is.
"I had to overcome the impact of being in front of Ian Malcolm. After so many years, Jeff Goldblum was in front of a camera again talking about dinosaurs!" Bayona told EW.
This isn't the first time that Pratt and Goldblum are finding two universes colliding. Pratt stars as Peter Quill in Marvel's Guardians of Galaxy and Goldblum is fresh off his hilarious role as the Grandmaster in Thor: Ragnarok.
Jurassic World: Fallen Kingdom is the fifth installment in the Jurassic Park film series and will follow a volcanic eruption that threatens the remaining dinosaurs on the island of Isla Nublar, where the animals have freely roamed after the demise of the park. It's expected to be one of the biggest films of the summer, hitting theaters on June 22, 2018.
The first official trailer is being released tomorrow, but in the meantime check out the whole BTS clip below!
Related:
Jurassic World: Fallen Kingdom's First Look and First Details Revealed
The Newest 'Jurassic World: Fallen Kingdom' Teaser Elicits a Fight or Flight Response
Take a First Look at 'Jurassic World: Fallen Kingdom' in this Teaser Clip