16 TV Episodes Guaranteed to Get You in the Thanksgiving Spirit
Published on November 20th, 2018 | Updated on November 20th, 2018 | By FanFest
Holidays are always a great time for television. Not only does it give the writers some easy material to work with, but it also provides the perfect opportunity to bring all of the characters together where stories can either be put on hold or on full blast. So, when you're gloriously full of so much turkey, stuffing, and pie that you can barely move, sit down on the couch and watch some of these popular Thanksgiving-themed TV episodes (a majority of which are available to stream)!
Gilmore Girls
3×09 – "A Deep-Fried Korean Thanksgiving"
No one loves to eat more than the Gilmore Girls, making Thanksgiving their Super Bowl. In this episode, the girls somehow manage to book themselves for four separate Thanksgiving dinners Plus, there is no better place to spend Fall than in Stars Hollow.
How I Met Your Mother
The "Slapsgiving" Episodes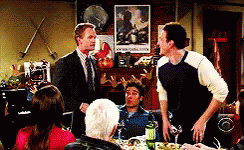 3×09 – "Slapsgiving": Lily and Marshall celebrate their first Thanksgiving as a married couple; Barney awaits the consequences of a slap bet.
5×09 – "Slapsgiving 2: Revenge of the Slap":  Marshall bequeaths a "slap bet" slap to Ted and Robin; Lily's estranged father (Chris Elliott) visits for Thanksgiving.
New Girl
1×06 – "Thanksgiving"
When Jess invites her crush (Justin Long) to Thanksgiving dinner at the loft, things get a little out of hand.
That '70s Show
1×09 – "Thanksgiving"
Laurie brings a college friend home for Thanksgiving, who then causes trouble by trying to seduce Eric.
Friends
There are technically 10, but these are our favorite Thanksgiving-themed episodes.
3×09 – "The One With the Football": The old sibling rivalry between Monica and Ross resurfaces and postpones Thanksgiving dinner when the gang decides to play a game of "touch" football.
4×08 – "The One With Chandler in a Box': Chandler tries to earn Joey's forgiveness by lying in a wooden box for six hours. Monica accidentally gets ice in her eye and her doctor turns out to be Richard's son and it's discovered Rachel exchanges the gifts she received in the past.
5×08 – "The One With All the Thanksgivings": The gang remember and share with each other their worst Thanksgivings.
6×09 – "The One Where Ross Got High": Ross is forced to reveal the reason why Jack and Judy don't like Chandler. Rachel tries to make dessert for the gang. Joey and Ross try to get out of Thanksgiving when they are invited to hang out with Janine and her dancer friends.
8×09 – "The One With the Rumor": Monica encounters a high-school friend (guest star Brad Pitt) and invites him to Thanksgiving Day dinner.
The Office
7×09 – "WUPHF.COM"
Michael helps convince people to invest in Ryan's Internet company. Trying to capitalize on Thanksgiving, Dwight creates a hay festival in the parking lot, and a new policy prevents Jim from earning a commission.
Glee
4×08 – "Thanksgiving"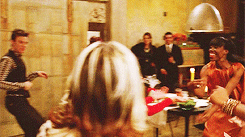 Mercedes, Mike, Puck, Quinn, and Santana return to McKinley for the holidays. Kurt and Rachel however, decide to stay in New York for Thanksgiving to avoid drama, breaking the promise they made back before graduation about returning to McKinley on vacations.
Parenthood
2×08 – "Happy Thanksgiving"
Adam fears his future, and he is torn between his job and family after surprising news from Gordon. While preparing Thanksgiving dinner, Camille and Amber share a bonding moment. Meanwhile, Drew feels uncomfortable about his mom, bringing Gordon to dinner. Crosby tries to impress his future mother-in-law. Elsewhere, Julia tries to embrace her domestic side by making pies for dinner, but snaps at Sydney.
This Is Us
1×08 – "Pilgrim Rick"
An unforeseen detour interrupts Jack, Rebecca and the kids' trip to their traditional Thanksgiving dinner; Kate makes life-altering decisions; Olivia accompanies Kevin to Randall's house; Randall learns a heartbreaking secret.
The West Wing
2×08 – "Shibboleth"
Dozens of Chinese stowaways are discovered in a container ship in California; Toby looks to pick a fight over school prayer with a recess appointment; Thanksgiving at the White House sees C.J. in charge of turkeys and Charlie looking for the ultimate carving knife.
It's Always Sunny in Philadelphia
9×10 – "The Gang Squashes Their Beefs"
When some bad blood with old foes compromises their ideal Thanksgiving, the gang decides to make amends by breaking bread with those they've hurt.
What's your favorite Thanksgiving-themed episode of TV? Let us know!
Having studied Media & Writing at James Madison University, I always knew that I wanted to do some type of creative writing, but being able to write about zombies, Starks, and superheroes on a daily basis for Fan Fest is my actual dream. While I probably shouldn't be as proud as I am to be so similar to Nick Miller, I do hope to one day write my own "Pepperwood Chronicles'.