15 TV Shows That are Turning 15 This Year
Published on August 14th, 2017 | Updated on August 14th, 2017 | By FanFest
1. 8 Simple Rules
September 17, 2002 – April 15, 2005
Cast: John Ritter, Katey Sagal, Kaley Cuoco, Amy Davidson, Martin Spanjers, James Garner, David Spade
8 Simple Rules, which was originally called 8 Simple Rules for Dating My Teenage Daughter, was a sitcom that followed two middle class parents (Ritter and Sagal) as they raised their three teenage daughters. The original premise was based off of Ritter's character who became a stay at home dad when his wife went back to work full time and often had strict rules for his daughters. After the first season John Ritter tragically passed away. After a hiatus the show returned for a second season with new additions David Spade and James Garner.
2. American Idol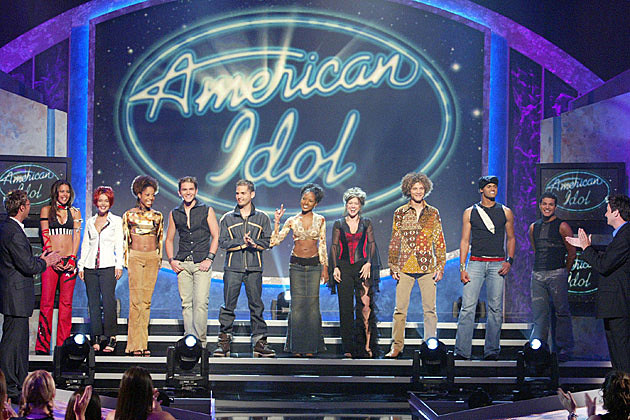 June 11, 2002 – April 7, 2016
The iconic music reality show first premiered in 2002 with a dream team of judges, a great group of contestants and two hosts. That's right – Season 1 of American Idol was hosted by both Ryan Seacrest and Brian Dunkleman. Throughout it's 15 seasons and 555 episodes, we were introduced to so many talented artists, and while not all of them stuck around, the show's first winner Kelly Clarkson is still relevant and crushing the music game today. Even though the show wrapped up in 2016 a revival is already on the books with Katy Perry confirmed as a judge and Ryan Seacrest returning to host.
3. The Bachelor
March 25, 2002 – present
American Idol wasn't the only iconic reality show hitting the small screen in 2002. ABC's The Bachelor was also embarking on it's first season. It's been on the air for 21 seasons, has inspired many addicting trashy spinoffs, and is still alive and kicking. A lot has changed for the franchise since it's first season when Bachelor Alex Michel went on a search for love, but fans of the show can watch the first season on ABC or watch some of their favorite contestants as the new season of Bachelor in Paradise kicks off this week.
4. Barefoot Contessa
November 30, 2002 – present
Barefoot Contessa's Ina Garten is a Food Network staple as she approaches her 15th anniversary. The soft-spoken chef has a French cuisine background but she walks her viewers through American, Asian, British and Italian dishes as well. Her show has won three Daytime Emmy Awards and shows no signs of stopping.
5. Everwood
September 16, 2002 – June 5, 2006
Cast: Treat Williams, Gregory Smith, Emily VanCamp, Debra Mooney, John Beasley, Vivien Cardone, Chris Pratt, Tom Amandes, Scott Wolf, Sarah Drew
This lovable cast from this show about a small Colorado town recently reunited for their 15th Anniversary at the CW's 2017 TCA Panel to a lot of emotion and excitement. The series followed Brain Surgeon Andy Brown as he moved his two children to a small mountain town where they're forced to evaluate their relationship as a family as well as romantic relationships and friendships as well. Big names such as Hollywood superstar Chris Pratt and Emily VanCamp got their starts on Everwood. The show ran for an impressive 89 episodes.
6. Firefly
September 20 – December 20, 2002
Cast: Nathan Fillion, Gina Torres, Alan Tudyk, Morena Baccarin, Adam Baldwin, Jewel Staite, Sean Maher
Joss Whedon's cult classic TV show only ran for one season, but it's still got a huge following and fan base today just itching to talk about it. American space western drama set in the year 2517, after the arrival of humans in a new star system and followed the adventures of the renegade crew of Serenity, a "Firefly-class" spaceship. All of the fan love after it's cancellation led it to getting a 2005 film called Serenity, which continued from the story of the series and left fan clamoring for some sort of revival.
7. Kim Possible
June 7, 2002 – September 7, 2007
Kim Possible, Disney Channel's original animated series about high school student Kim Possible who spends her days fighting crime while coping with everyday issues of being a teenager. Kim Possible and her sidekick Ron Stoppable were voiced by Disney Channel favorites Christy Carlson Romano (Even Stevens) and Will Friedle (Boy Meets World). The show ran for 4 seasons and 87 episodes.
8. Less Than Perfect
October 1, 2002 – June 6, 2006
Cast: Sara Rue, Sherri Shepherd, Andrea Parker, Zachary Levi, Eric Roberts, Andy Dick
Less Than Perfect followed Sara Rue as Claude and her friends and colleagues who work at a television network named GNB with her. A lot of the talk revolving around the show centered around Rue's fuller figure and it's correlation to the show's titles. Rue ended up losing over 30 pounds throughout the shows 4 seasons. The series also starred a young Zachary Levi and Andy Dick.
9. Monk
July 12, 2002 – December 4, 2009
Cast: Tony Shalhoub, Bitty Schram, Jason Gray-Stanford, Ted Levine, Traylor Howard
This USA Network police procedural series ran for 125 episodes and followed Tony Shalhoub as Adrian Monk, brilliant detective in San Francisco dealing with the death of his wife, Trudy, who was killed by a car bomb, which Monk believed was intended for him. The series held the record for the most-watched scripted drama episode in cable television history from 2009 through 2012 before it was knocked out by The Walking Dead.
10. The Nick Cannon Show
January 12, 2002 – February 22, 2003
Nick Cannon has hosted a lot in his career, but before all of that he had his All That spinoff The Nick Cannon Show. The show's original premise was a semi-scripted show where Nick Cannon, a former cast would come across a situation he thought needed changing and then would "take over" to make things better or funnier. It ran for two seasons and can be found on iTunes for your viewing pleasure.
11. The Osbornes
5 March 2002 – 21 March 2005
Before the Kardashian's we had the antics of the Osbourne family taking over the small screen. The MTV reality show ran for 4 seasons and showcased the heavy metal singer, Sharon, Jack and Kelly in their daily (and raunchy) family life. While a lot of the show was pretty crazy and light hearted, they also covered serious events such as Sharon's battle with cancer, and the aftermath of an ATV accident that nearly killed Ozzy. In 2009 Ozzy said that he was "stoned during the entire filming of The Osbournes and will hasn't ever watched the show because of this.
12. The Shield
March 12, 2002 – November 25, 2008
Cast: Michael Chiklis, Glenn Close, Catherine Dent, Reed Diamond, Paula Garces, Walton Goggins, Michael Jace, Kenneth Johnson
The Shield was an American crime drama on FX that starred Michael Chiklis as a dirty LAPD cop and the police unit under his command. The show was instantly met with critical acclaim and won the Golden Globe Award for Best Television Series – Drama in 2002. Chiklis also won the Emmy Award and Golden Globe Award for Best Lead Actor in a Drama in 2002, which is quite impressive for a show's first season. The series ran for 7 seasons and 88 episodes.
13. What I Like About You
September 20, 2002 – March 24, 2006
Cast: Amanda Bynes, Jennie Garth, Wesley Jonathan, Simon Rex, Michael McMillian, Leslie Grossman, Nick Zano, Allison Munn
What I Like About You was a lovable sitcom starring Jenny Garth and Amanda Bynes as two very different sisters living together. Bynes and Garth actually share a birthday in real life on April 3. The show ran for 86 episodes on The WB.
14. The Wire
June 2, 2002 – March 9, 2008
Cast: Dominic West, John Doman, Idris Elba, Frankie Faison, Lawrence Gilliard Jr., Wood Harris, Deirdre Lovejoy, Wendell Pierce, Lance Reddick
The Wire was a critically acclaimed HBO drama created by David Simon and followed the Baltimore drug scene through the eyes of drug dealers and law enforcement. It featured a heavy hitting cast including Idris Elba, Dominic West, Lawrence Gilliard Jr. and Lance Reddick. Despite the ciritical acclaim and constant award nominations the show tended to struggle in the ratings department. However, over 15 years after it's premiere The Wire is still one of the more respected and popular HBO series.
15. Without a Trace
September 26, 2002 – May 19, 2009
Cast: Anthony LaPaglia, Poppy Montgomery, Marianne Jean-Baptiste, Enrique Murciano, Eric Close, Roselyn Sánchez
Without a Trace ran for 7 seasons and 160 episodes on CBS and followed the cases of an FBI unit specializing in missing persons investigations. Every episode followed the search for a missing individual and the stories also focused on the lives of the team members and how their personal experiences gave them insight into their cases. The show also had a crossover with CSI: Crime Scene Investigation in 2007.
Having studied Media & Writing at James Madison University, I always knew that I wanted to do some type of creative writing, but being able to write about zombies, Starks, and superheroes on a daily basis for Fan Fest is my actual dream. While I probably shouldn't be as proud as I am to be so similar to Nick Miller, I do hope to one day write my own "Pepperwood Chronicles'.