12 Days of TWD: 2 ways we'd like to see Negan's reign of terror end
Published on December 24th, 2016 | Updated on December 24th, 2016 | By FanFest
Negan is the villain that we love to hate and hate to love and let's be honest – there's that whole charismatic sort of appeal thing he's got going on that makes it that much harder to truly paint him as the worst bad guy in The Walking Dead history. Negan is brutal, unrelenting, and absolutely stuck in his ways – but he's also the leader of his people and it's the way he stayed alive, it's the way he's made it this far, and there's got to be something more to that.
Of course, if you've read the comics, you know why Negan is the way that he is; at least on paper. It's still to be determined if they'll play his comic book storyline out in the series or if they'll take things in a different direction; what is evident, however, is that the man has been through a lot.
Now we don't mean to paint him as some troubled hero either, he killed our Glenn and our Abraham and just last week he killed Spencer and Olivia. He also put Daryl in a cell and stripped him of everything that made him who he is; it was tragic to watch! So we know, Negan is public enemy number 1 and even with his charisma, most fans are already plotting how they'd like to see his character meet his doom.
We looked at some fan ideas, theories, and talked to some of our friends to find out what death would most avenge the loss that's come at the hands of Neg
Dwight and Daryl kill Negan
Dwight has become Negan's 'plaything' for a lack of better words; the guy who Negan uses to make himself feel better – breaking him down when Negan needs to feel stronger and pushing him to take care of business Negan won't handle himself. He plays whatever role Negan asks of him and he does it with the thought that he's going to be praised for it later. It reminds us a little bit of Mean Girls. The thing is, Dwight has recently seemed to find a bit of humility, or at least he sees it on the horizon for the first time, and wouldn't it be some type of irony if that humanity led Dwight to take Negan out himself?
Even better than just Dwight ending Negan however, would be Daryl joining in too. Dwight was the one in charge of making sure Daryl didn't step out of line during his time in 'the cell' but even when Daryl spoke out of line – against Dwight's advice – Negan had a soft spot for him. At a point, Dwight even looked jealous of the 'freedom' that Daryl had when speaking to Negan. There was also the moment where Daryl told Dwight that he understood why he gave in, why he gave away his identity to 'become Negan' – that he knew he did it for someone else. That very reason is the reason that Daryl couldn't, and never will.
In those moments where Dwight realized that humanity still existed, Daryl seemed to be around, and even though he's been a villain himself; we can't be the only ones hoping that he'll come around to join forces with Daryl – at least to take Negan out once and for all.
Rick kills Negan
Obviously, during one of the most intense scenes of television and film altogether, not just on The Walking Dead, Rick makes a promise to Negan that he will kill him.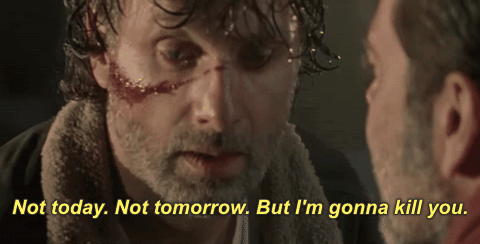 The look on Rick's face matched with the tone of his voice sends chills down your spine. He is a man on a mission, and he plans to take Negan down; he'll make him regret the day their paths crossed. Unfortunately, after this intense scene, Rick was broken down and it wasn't just a clean break; it was messy, it was painful, it was defeated.
Rick spent the majority of season 7 being Negan's lap dog. He made sure that everything was running as it should be so that when Negan came to pick up 'half of their shit – which as we all know – now belongs to him, that the meetings would be cordial. However, Negan isn't a man that cares that much about promises of kindness and brotherhood; in fact, when he sees it fit the rules of engagement are subject to change, and change they have. He shows up early, he comes too often, he takes up shelter in a home and cooks everyone awkward spaghetti dinner. He gets cute and cuddly with baby Judith (be still our hearts) before shooting and gutting people in the street – he's motivated by emotion.
At the end of the last episode, Daryl came back to the group and our broken hearts were mended; at the same time, so was Rick. As Daryl and Rick embraced and made us all cry, Rick also found strength again and to top it all off; Daryl handed him his gun. In that moment, Rick found himself, and the mission was clear once again – Negan has to pay, and he will. We'd love to see Rick have the final say in Negan's fate. Sign us up.
What do you think will be the ultimate end for Negan? Let us know!