10 Times Jack Pearson Deserved His World's Best Dad Mug
Published on February 4th, 2018 | Updated on February 19th, 2018 | By FanFest
Jack Pearson is one of the best father characters to ever grace the small screen and while he had his flaws, his family was always his guiding light and he never missed an opportunity motivate, inspire and love the Big Three. We may not be ready to see his final moments on Super Bowl Sunday's pivotal episode, but at least we know that Jack Pearson will die how he lived – being a superhero Dad.
Here are 10 of our favorite Jack Pearson moments that prove just how much he deserved his World's Best Dad Mug and so much more.
1. The Push-Up Scene
This will probably go down as one of the most poignant and touching scenes of the series. When Jack keeps doing push-ups even after he was told he could stop just to prove to Randall that he would always be there to lift him up and support him no matter is Jack Pearson in a nutshell.
2. When he was Pilgrim Rick
Spending Thanksgiving in a dingy motel isn't the anyone's ideal holiday, but Jack wasn't about to let anything ruin the Pearson's night. He became Pilgrim Rick and turned everyone's sour attitude's around, creating a tradition that the Big Three would carry on for the rest of their lives.
3. When he gave Kate a magic shirt
https://s-mokeclouds.tumblr.com/post/152026711674/this-is-a-magic-t-shirt
Jack and Kate have such a special relationship and he always tried to get her to see the beauty that he saw in her. When he gives Kate the "magic shirt" it completely turns her sad mood around and creates an even safer space for her.
4. And told her this
5. And when he videotaped Kate and she finally understood
https://s-mokeclouds.tumblr.com/post/170081392684/it-would-break-my-heart-if-you-didnt-want-to-be
After years of telling her how beautiful she was, Kate finally realized while watching the videotape of her singing that Jack wasn't just telling her those things to make her feel better – he truly and unequivocally felt that way.
6. When he told Randall to embrace his differences
When Randall was feeling insecure about his race, Jack gave him a beautiful speech about accepting and embracing the things that make him different than Kevin and Kate and it was just perfect.
7. And that he can do whatever he puts his mind to
Jack always wanted his kids to see themselves for the amazing humans that he saw them as. When he and Randall took a trip just the two of them to visit colleges, he promised Randall that he would eventually find his path and he would be spectacular – and he was right.
8. When he helped Kevin find his battle cry
Kids with chicken pox is a mess, but Jack found a way to get through to Kevin and tell him that he is tougher and stronger than any itch and together they both let out their battle cries.
9. And he helped him pick out a suit
One of Jack and Kevin's final moments was when Jack took him to get a proper suit, a moment that is special for any father and son. It was a breif scene, but you could tell just how much the moment meant to Kevin, who was always the toughest on Jack.
10. When he shoveled the driveway
Who can forget when Rebecca's mom came to town and drove everyone crazy? Well, even though he was super sick Jack got out of bed and shoveled the driveway so that she could leave and everyone could feel at home again.
Honorable mention: When he cleaned up the kitchen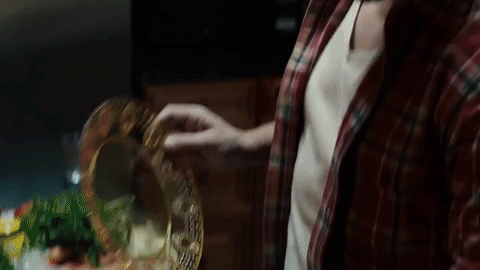 While Rebecca will never get to see her spotless kitchen, we got to and it just was another moment proving that Jack Pearson was (and is) the literal best.
What are you favorite Jack Pearson moments? Be sure to watch the big episode tonight after the Super Bowl on NBC!
Related:
Here's Why I Don't Think Jack Dies in the Fire & Other 'This Is Us' Theories
Milo Ventimiglia Offering Forgiveness in 'This Is Us' Super Bowl Promo… That's No Crock!
These are the Scenes That Basically Secured Milo Ventimiglia and Sterling K. Brown's 'This Is Us' Emmy Nominations
Top 10 Tear-Jerking Moments From 'This Is Us' Season 1
Having studied Media & Writing at James Madison University, I always knew that I wanted to do some type of creative writing, but being able to write about zombies, Starks, and superheroes on a daily basis for Fan Fest is my actual dream. While I probably shouldn't be as proud as I am to be so similar to Nick Miller, I do hope to one day write my own "Pepperwood Chronicles'.