10 Shows That Are Turning 10 in 2018
Published on January 5th, 2018 | Updated on January 5th, 2018 | By FanFest
Breaking Bad

Premiere Date: January 20, 2008
Network: AMC
Series Run: 5 Seasons – 62 Episodes
When Breaking Bad premiered its seven-episode debut season it was an immediate hit with the critics who instantly became huge fans of cancer-fighter turned meth dealer Walter White (Bryan Cranston) and his idiot apprentice Jesse Pinkman (Aaron Paul) who had a knack for saying 'bitch' with perfect delivery. It went on to become an even bigger hit after it began streaming on Netflix and has often been hailed as one of the best television shows of all time and still holds a 95% on Rotten Tomatoes. Under the direction of creator Vince Gilligan, Breaking Bad went on to receive 16 Emmy awards and eventually led to the spin-off Better Call Saul starring Bob Odenkirk, which is currently airing on AMC.
The Secret Life of the American Teenager
Premiere Date: July 1, 2008
Network: ABC Family/Freeform
Series Run: 5 Seasons – 121 Episodes
7th Heaven creator Brenda Hampton brought this soapy teenage drama to ABC Family and it immediately became the network's biggest hit. It starred Shailene Woodley as Amy Juergens, a high-school teenager who becomes pregnant after a summer away at band camp. The show followed Amy and her family and friends as they deal with both the pregnancy and the highs and lows of everyday life. The pilot episode brought in a record-breaking 2.8 million viewers, knocking the then reigning Kyle XY out of the number one spot. By the time the season one finale aired Secret Life was the number one scripted telecast for viewers aged 12-34. The series would go on to become one of ABC Family's, now Freeform's, most popular original series and shows of all time.
John Adams
Premiere Date: March 16, 2008
Network: HBO
Series Run: 1 Season – 7 Episodes
Paul Giamatti brilliantly took on the role of John Adams in the HBO miniseries that chronicled the political life of the President and his pivotal role in the founding of the United States. Throughout it's seven-episode run the miniseries received instant critical acclaim and went on to win four Golden Globe awards and thirteen Emmy awards, which is more than any other miniseries in history. It also holds the record for most Emmy wins by a program in a single year. The series, which was based on the book by David McCullough, was executive produced by Tom Hanks and directed by Tom Hopper.
90210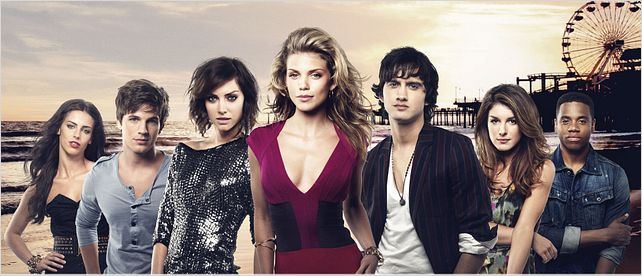 Premiere Date: September 2, 2008
Network: The CW
Series Run: 5 Seasons – 114 Episodes
The CW's 2008 version of 90210 was the fourth series in the Beverly Hills 90210 franchise and followed suit by trailing the dramatic lives of several affluent students attending West Beverly Hills High School. It fit in perfectly with the Gossip Girl, Vampire Diaries and One Tree Hill demographic that ruled the network long before the Arrowverse stepped in. While the show's first season got off to a somewhat rocky start, due to the insistence on bringing back Beverly Hills 90210 alumni to boost ratings, it eventually found its footing in season 2 when they brought in Rebecca Rand Kirshner Sinclair as the new showrunner. She was able to change the initial direction of the show and carry it on for four more seasons.
Sons of Anarchy
Premiere Date: September 3, 2008
Network: FX
Series Run: 7 Seasons – 92 Episodes
Sons of Anarchy brought something completely unique to the FX lineup when it premiered in 2008. Following the Sons of Anarchy motorcycle gang in the ironically named Charming, CA, Sons focused heavily on the themes of brotherhood, redemption, and loyalty for seven seasons and people loved every second of it. A lot of the show's season one success was due to Katey Sagal's brilliant performance as Gemma Teller-Morrow, which was absolutely raved by critics and landed her the Golden Globe in 2010 for the role. By the time that season 3 rolled around, Sons was FX's highest-rated series, surpassing previous hits such as The Shield, Nip/Tuck, and Rescue Me. The show was created by Kurt Sutter and featured an uber-talented cast including Charlie Hunnam, Ron Pearlman, Kim Coates, Theo Rossi, Mark Boone Junior and Maggie Siff has since inspired a comic book, a novel series, a video game and a sequel titled Mayans MC which is expected to air hopefully this year. Now, all we need is for Sutter to release John Teller's manuscript The Life and Death of SAMCRO and all will be okay with the world.
True Blood
Premiere Date: September 7, 2008
Network: HBO
Series Run: 7 Seasons – 80 Episodes
2008 was prime time for vampires in pop culture – it was the year that Twilight hit theaters after all. Thankfully, HBO provided a much darker, grittier and campier option for adult audiences in True Blood, which was an adaption of Charlaine Harris' novel series The Southern Vampire Mysteries. True Blood took place in a world where vampires had "come out of the coffin" and were publically living among the well…living. The adorable Anna Paquin played Sookie Stackhouse, a waitress who falls in love with the mysterious Bill Compton (played by her now real-life husband Stephen Moyer). Of course, there were plenty of other amazing characters and actors that stole the show throughout the series as well such as Alexander Skarsgard, Ryan Kwanten, Sam Trammell, Rutina Wesley and of course Joe Manganiello. Throughout it's run True Blood became the most watched HBO series since The Sopranos.
Fringe
Premiere Date: September 9, 2008
Network: Fox
Series Run: 5 Seasons – 100 Episodes
With J.J. Abrams as creator, Fringe was already a standout before its 2008 premiere. The FOX sci-fi series followed the fictional Fringe Division of the FBI who used fringe science and investigative techniques to examine a series of unexplained, often frightening occurrences related to mysteries surrounding a parallel universe. Over the series' 100-episode run, Fringe developed a cult following despite it eventually being moved to the dreaded Friday night time slot and still. It starred Joshua Jackson in his first big TV role since Dawson's Creek, Anna Torv, and John Noble all of which were either nominated or won a Saturn Award throughout its run.
Merlin
Premiere Date: September 20, 2008
Network: BBC
Series Run: 5 seasons – 65 episodes
It took a couple of years for someone to scoop up the British fantasy drama Merlin, but in 2006 BBC finally did and it premiered to good ratings two years later when it hit screens. It starred Colin Morgan in the titular role of the young wizard Merlin and followed his relationship with the future King Arthur, using a similar style to Smallville's portrayal of the early years of Superman. It eventually made its way onto NBC in the US but was later moved to SyFy until its cancellation in 2012. However, it's still a popular mainstay on both the US and UK Netflix sites. Merlin also starred John Hurt, Katie McGrath, Bradley James, Richard Wilson and Angel Coulby.
The Mentalist
Premiere Date: September 23, 2008
Network: CBS
Series Run: 7 seasons – 151 episodes
From the get-go, critics and audiences immediately fell for Simon Baker's portrayal of former "psychic" Patrick Jane as he becomes a consultant to the California Bureau of Investigation, using his keen observational skills to "read people's minds". His performance was most likely what saved the show during its first season, making it a standout from the other procedurals and episodic series that were on the air and he went on to receive Emmy, Golden Globe and SAG award nominations in 2009 and 2010. While its premise was often compared to that of USA's Psych, The Mentalist became a staple on CBS all the way until it's seventh and final season in 2015.
The Inbetweeners
Premiere Date: May 1, 2008
Network: E4
Series Run: 3 Seasons – 18 Episodes
There was a lot to love about this British coming of age series that aired on E4 from 2008-2010 and followed the Will, Simon, Neil and Jay and their misadventures at Rudge Park Comprehensive school. It was extremely well received by critics and was nominated twice at BAFTA for Best Situation Comedy. It also won the British Comedy Award for Best Sitcom. The cast included Simon Bird, Joe Thomas, Blake Harrison and James Buckley who had awesome on-screen chemistry as their characters battled it out with bad romances, school life, terrible teaches, and everything else that comes with being a teenager in high school. The show led to a fairly successful movie in 2011 and a subsequent sequel in 2014. However, when MTV attempted to produce a U.S. version of the show, it did not fare as well and was canceled after one season.
Having studied Media & Writing at James Madison University, I always knew that I wanted to do some type of creative writing, but being able to write about zombies, Starks, and superheroes on a daily basis for Fan Fest is my actual dream. While I probably shouldn't be as proud as I am to be so similar to Nick Miller, I do hope to one day write my own "Pepperwood Chronicles'.