10 Norman Reedus Gifs That Describe the Wait for Season 7 of The Walking Dead
Published on August 23rd, 2016 | Updated on August 23rd, 2016 | By FanFest
Season 6 of The Walking Dead ended with a bang, both literally and metaphorically. Negan and Lucille have, undoubtedly, killed one of our favorite characters and the waiting game to find out who ultimately falls victim is unspeakably hard.
As conventions take place all around the US and AMC aired a season 7 preview just two weeks ago; fans are once again analyzing every single second of the season 6 finale to try to piece together who lives, who dies, and how on earth it's possible that a tiger exists within The Kingdom.
If you're anything like us, you're trying desperately to find some humor and relief during the waiting period as you watch past episodes, cast interviews, convention panels, and spend way too much time on Tumblr searching The Walking Dead gifs.
We found ourselves doing just that and then it dawned on us: Norman Reedus makes everyone happy!! We then searched through pages and pages of gifs – not that it was a hardship – and came up with ten of the best gifs that describe all of our emotions as the inevitable pain of the season 7 opening draws near.
To kick it off with an honorary mention (because really – we just love this gif) here's a smiling Norman. Reminiscent of how we were as fans before Negan and Lucille showed up to take out one of our favorites.
10. When you realize that the premiere is less than two months away:
9. When you realize that the premiere is STILL two months away:
8. When you think of that goosebump-raising sound that occurred when Lucille made contact with the victim:
7. When you wish you'd never actually watched the first episode of TWD but also realize how much you can't imagine your life without the show:
6. When you think about anything happening else to Glenn and Maggie:
5. When you find yourself praying it was all just a dream and everyone is actually just fine: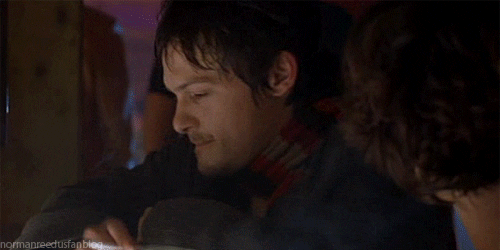 4. When it hits you that not everyone is fine at all and no matter who leaves, it's going to sting:
3. When your friends ask what's on your mind and you're not sure how to explain that a bat with barbed wire is your newest sworn enemy:
2. When anyone so much as mentions that Daryl could be Negan's victim:
1. When you realize that it's 2 am and you're still searching Norman Reedus gifs:
2 am or not, it goes without saying that any time of day, at the moment, serves an opportunity to get way too emotional when you think about The Walking Dead, and Norman has set us up with a great set of gifs to express just that.
How are you feeling about season 7? Tweet us and let us know which gif best describes you during the waiting process!