10 'Game of Thrones' Easter Eggs That May Have Slipped By You
Published on February 21st, 2018 | Updated on February 22nd, 2018 | By FanFest
This post will contain spoilers for all seasons of Games of Thrones:
Clearly, we've got a long ways to go until new episodes of Game of Thrones…nearly a year in fact. So, while we wait for HBO to send the raven with these new episodes we thought that we'd take a trip down memory lane and check out some of the show's most popular Easter eggs from throughout the seasons! Check out 10 of our favorites below.
1. Littlefinger predicts the future
In season 4 Littlefinger tells Robin, "People die at their dinner tables, they die in their beds, they die squatting over their chamber pots. Everyone dies, sooner or later." While King Joffrey had already died earlier in the season, he essentially predicted the deaths of both Shae and Tywin Lannister.
2. R & L = J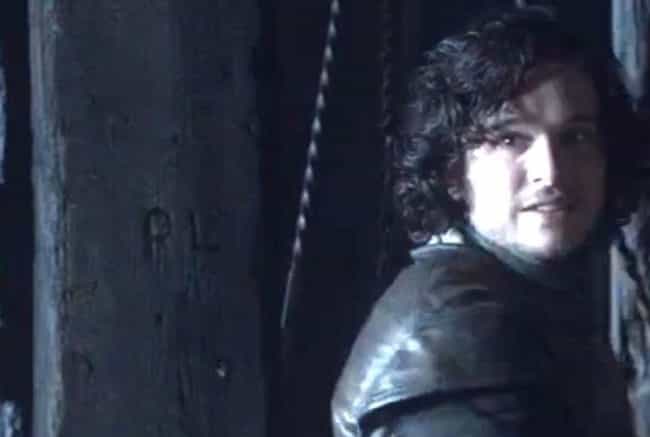 This is probably one of the most popular Game of Thrones Easter eggs, but back in season 1 while briefly talking to Sam about his mother, the initials "R" and "L" can be seen on the pillar behind Jon. This sent fans further into the popular theory that Ned's sister Lyanna Stark and Rhaegar Targaryen were actually Jon's parents. This wouldn't be confirmed until the latest season, but it is pretty cool to look back on this hint from the early episodes.
3. Lord of the Rings
George R.R. Martin is a huge fan of Lord of the Rings and there are some references to it throughout the series. In LOTR, Frodo's hobbit pals were Sam and Pip. In Game of Thrones, Jon Snow's best friends at the Wall are Sam and Pyp.
4. Gandalf's Sword
You can also see Gandalf's sword from LOTR in the Iron Throne.
5. Coldplay played the Red Wedding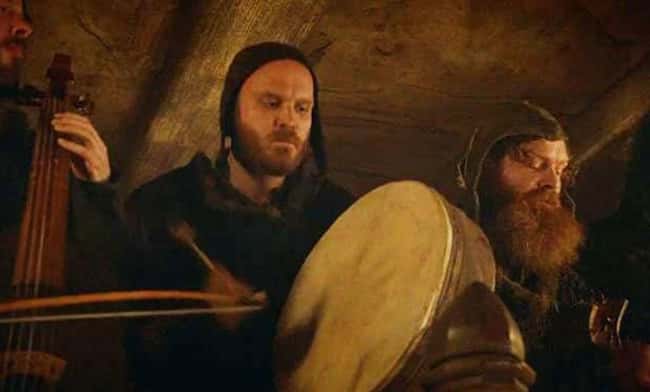 Coldplay drummer Will Champion made a cameo in Season 3 as one of the musicians/assassins hired by Lothar Frey for the Red Wedding.
6. Osha's Brooms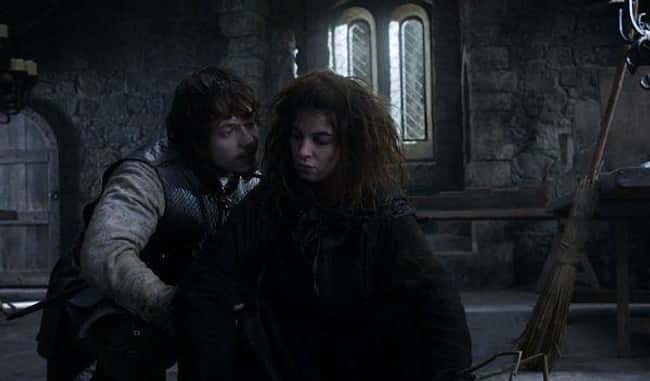 Game of Thrones has had quite its share of Harry Potter actors in the series, but when Natalia Tena who played Osha on the show came on there was a perfect opportunity for a little wink-wink to the world of wizarding. Tena had played a witch named Nymphadora Tonks in the Harry Potter movies and on GoT she is seen making a broom with another witchy looking broom prominently displayed in the background.
7. Jamie's Hand
In season three's "The Bear And The Maiden Fair", the one in which Jaime returns to Harrenhal to save Brienne, Locke tells Jaime to "go buy yourself a golden hand and f*** yourself with it." This is a direct reference to the golden prosthetic hand that Jaime would receive in season four.
8. Monty Python
In Season 4's episode "Breaker of Chains," a Meereenese fighter shouts an insult in Low Valyrian, which according to the show's linguist, David Peterson, translated to "Your mother is a hamster and your father smells of elderberries," a reference to Monty Python and The Holy Grail. It was actually Creator D.B. Weiss' idea.
9. Peter Dinklage's Video Game
While it could just be a coincidence, in Season 5 there is a shot of Tyrion sitting in front of a window, which looks very similar to his character Ghost from the Destiny video game. Although he was later replaced on Destiny it's still a nice little shout-out.
10. Hall of Faces:
According to prosthetics supervisor Barrie Gower, these two faces were molded from Game of Thrones Co-creators David Benioff and Dan Weiss.
What are some of your favorite Game of Thrones Easter eggs? Let us know in the comments!
Related:
Maisie Williams May Have Just Revealed the Month in Which 'Game of Thrones' Returns in 2019 – UPDATED
'Game of Thrones': Did You Catch These Season 1 Callbacks During "Beyond the Wall"?
The White Walkers May Have Just Added More Fuel to this Popular 'Game of Thrones' Theory
This Theory Sheds Some Serious Light on Tyrion's Final Scene Last Night
Having studied Media & Writing at James Madison University, I always knew that I wanted to do some type of creative writing, but being able to write about zombies, Starks, and superheroes on a daily basis for Fan Fest is my actual dream. While I probably shouldn't be as proud as I am to be so similar to Nick Miller, I do hope to one day write my own "Pepperwood Chronicles'.