⚡The First Reactions for 'Shazam' Are Here and Absolutely Delightful ⚡
Published on March 8th, 2019 | Updated on March 8th, 2019 | By FanFest
The first reviews for DC's upcoming Shazam have finally hit Twitter and it looks like the movie is going to be well worth a large slushie and a bucket of popcorn. Following the success of Wonder Woman and Aquaman, critics are absolutely raving about the Zachary Levi-led superhero film, praising its heart, charm, supporting cast, and childhood nostalgia.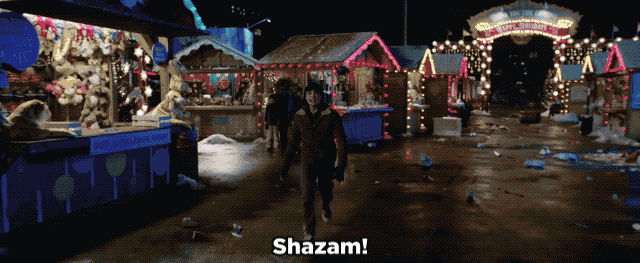 The film follows Billy Batson (Asher Anger) as a streetwise 14-year-old foster kid, who after a stranger encounter, is able to turn into the adult superhero known as Shazam (Levi). The film also stars Jack Dylan Glazer (It), Cooper Andrews (The Walking Dead), Mark Strong (Kingsman), Grace Fulton (Annabelle), and Djimon Hounsou (Guardians of the Galaxy).
Check out the instant reviews below!
#Shazam is such a brilliant movie. It's so tremendously fun, and incredibly scary at some points (thanks, David F. Sandberg!). It blows away every expectation and is my new favorite DC movie. pic.twitter.com/DlpymCukTP

— Brandon Davis (@BrandonDavisBD) March 8, 2019
The cast of #Shazam⁠ ⁠ is just genius. @ZacharyLevi, @AsherAngel , @smugorange, and Mark Strong are all just awesome. I had a blast watching all of them, and they play such different parts.

Jack Dylan Glazer is an absolute scene stealer as Freddy Freeman.

— Brandon Davis (@BrandonDavisBD) March 8, 2019
Shazam! is the superhero film that you never knew you needed. Zachary Levi was born to play this role. Ridiculously entertaining & non-stop fun from start to finish. Loved every character & all of the pop culture references. This is what going to the movies is all about. #Shazam pic.twitter.com/SxCcCTy2ZB

— Scott Menzel (@TheOtherScottM) March 8, 2019
Shazam! is another win for DC. Sure, the humor & action you'd expect from a superhero film are there, but #ShazamMovie stands out because of the emotional, family story at its center. I had some small issues with the hero/villain aspects but the family stuff is dynamic & powerful pic.twitter.com/FYM3QVp5hu

— Germain Lussier (@GermainLussier) March 8, 2019
#Shazam was damn near PERFECT in my book. My FAVORITE DC movie (DCEU? What are we saying now?) by far. Pure of heart, incredibly funny, full of in-jokes and references. Brought me a childlike joy to watch. This role was MADE for @ZacharyLevi… & Jack & Asher & the entire cast pic.twitter.com/rVrxjcwvCe

— Ash Crossan (@AshCrossan) March 8, 2019
#Shazam is a super-powered BIG & I LOVED every second of it. A colorful, vibrant, vital addition to the DCEU. Vivid character-driven action, heartrending central relationships & fully earned, totally satisfying emotional moments. Super hilarious. Super thrilling. Super awesome! pic.twitter.com/KelHZ5YzFq

— Courtney Howard (@Lulamaybelle) March 8, 2019
#Shazam is a laugh-out-loud funny romp that captures the innocence and challenge of being both a superhero and a kid at once. It's clever, fun and heroic with an obvious nod to 80s classics like Big, Ghostbusters, The Goonies etc. @joblocom @ShazamMovie

— Paul Shirey (@arcticninjapaul) March 8, 2019
#Shazam is parts Home Alone, parts Big, a crowd pleasing family-friendly joy-filled wish-fulfillment superhero film which gets a bit over the top and cheesy at times. It's fun and funny, and I was surprised at how much it wears it's heart on its sleeve.

— Peter Sciretta (@slashfilm) March 8, 2019
Zachary Levi was born to play #Shazam He delivers lots of laughs alongside co-star Jack Dylan Grazer. The film packs some big surprises for comics buffs and offers enough mainstream appeal to win over new fans. Shazam's strengths definitely outweigh its weaknesses. pic.twitter.com/kfFMW01jfO

— Jim Vejvoda (@JimVejvoda) March 8, 2019
Finally allowed to say that #Shazam was fantastic! Full of heart and pure childhood wish fulfillment. It's funny and the tone is exactly right. @zacharylevi is perfect in the role, and so is @asherangel, who I'm convinced is @maisie_williams' brother! pic.twitter.com/DXhp2ZBteR

— Jenna Busch (@JennaBusch) March 8, 2019
I absolutely loved #Shazam! It's my favorite DC film yet. Zachary Levi as Shazam was perfect casting and the kids absolutely steal the show. It's an amazing family movie with dope fight scenes and great humor! You guys are going to love it. pic.twitter.com/pZd5oORVA3

— Dorian Parks (@DorianParksnRec) March 8, 2019
#Shazam is an absolute delight! Super vibrant, tons of heart & a great fun-loving vibe. The family element is a big charmer & so is the humor that comes with watching @ZacharyLevi explore his new powers. Said this after IT but it's worth repeating – @Jgrazerofficial is a star.

— Perri Nemiroff (@PNemiroff) March 8, 2019
DC is finally building a solid run: #Shazam is a delight! Its familiar origin structure is forgivable because of all the new it brings to the table – primarily it's gleeful, childlike enthusiasm, & heartfelt perspective on family. It's also the role Zachary Levi was born to play. pic.twitter.com/5zXtfFDBGm

— Eric Eisenberg (@eeisenberg) March 8, 2019
#Shazam is big, goofy, lovable, and unlike anything DC has done before. Definitely in the vein of Tom Hanks' BIG, but with superhero action & lots of Batman and Superman references. I dug this film so much I wanted to give it a bear hug at the end. DC's movies keep getting better pic.twitter.com/WQJgo61gMg

— Erik Davis (@ErikDavis) March 8, 2019
loved #Shazam. It's super fun, very funny (a few times people were laughing so loud I missed dialogue), and exactly what they set out to make: 'Big' meets Superman. @ZacharyLevi is perfectly cast but the real surprise is @Jgrazerofficial as Freddy Freeman. Steals the show. pic.twitter.com/ssvs8Dwc2P

— Steven Weintraub (@colliderfrosty) March 8, 2019
Shazam hits theaters on April 5th! Check out the full trailer below.
Having studied Media & Writing at James Madison University, I always knew that I wanted to do some type of creative writing, but being able to write about zombies, Starks, and superheroes on a daily basis for Fan Fest is my actual dream. While I probably shouldn't be as proud as I am to be so similar to Nick Miller, I do hope to one day write my own "Pepperwood Chronicles'.